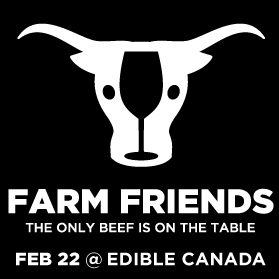 Farm Friends: The Only Beef is on the Table
February 22
Edible Canada
1596 Johnston Street, Vancouver, BC V6H 3R9 GOOGLE MAPS
6pm
$55 BUY TICKETS
Make March BC Wine Month
In light of the recent boycott of BC wine in Alberta – a group of BC wineries are calling for March to be made BC Wine Month. Work is being done with local private retailers and restaurateurs to encourage them to show support for BC wine by featuring it in store and on wine lists for the month of March.
To kick off this initiative an event is being held at Edible Canada on February 22. Farm Friends: Celebrating BC Wine + Alberta Food @ Edible Canada is a public grazing event to unite the community in a show of support for BC wineries.
Participating wineries include: 50th Parallel Estate Winery, Culmina Family Estate Winery, Haywire, Liquidity, Painted Rock Estate Winery, Poplar Grove Winery and Summerhill Pyramid Winery as well as Mireille Sauvé with the Dames Wine project. Winery principals will be on hand to showcase their wines and talk to guests and celebrate the gains that the industry has made over the past two decades.
Wines will be showcased along with Alberta foods such as beef and bison made by Edible Canada and guest chefs.
All proceeds will be donated to the BC Hospitality Foundation.