Jobs
Looking for a job at Okanagan Crush Pad Winery? We are currently hiring for seasonal Tasting Lounge Associates.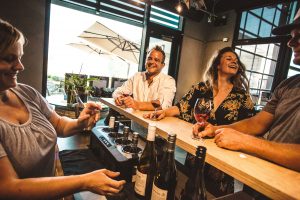 Required Duties of the Tasting Lounge Associate:
Warmly greet all guests and provide them with an exceptional and memorable tasting experience
Promote sales in the Tasting Lounge, online, at winery events & through the Wine Club
Handle retail transactions, including operating cash registers and accounting for daily sales
Conduct VIP, private tastings, covering off key points such as organic farming and using concrete vessels in winemaking
Tour guests around the cellar and explain winemaking
Prepare and serve picnic fare
Cleaning
Stocking shelves
Assisting with inventory management
Answering telephone and email inquiries
Booking group tastings
Opening and closing duties
Preferred Qualifications:
Prior experience in the hospitality industry (ie. winery, wine store, restaurant, brewery, cidery, etc.)
Must have a passion for Okanagan wine with WSET or ISG certifications preferred
Ability to work well individually and within a team
Excellent communication and multi-tasking skills
Attention to detail
Must haves:
Over 19 years of age
Ability to lift 35lbs and stand for extended periods of time
Able to work weekends, evenings and holidays
Serving it Right certificate required
Application details:
Please submit a cover letter and resume.
Contact Person: Kristina Neilsen
Location: Okanagan Crush Pad Winery, Summerland, BC
Hours: Seasonal, part-time to-full-time. Varies.
Successful candidates will be contacted.
Pay will depend on experience.
Apply via email now: kristina@okanagancrushpad.com