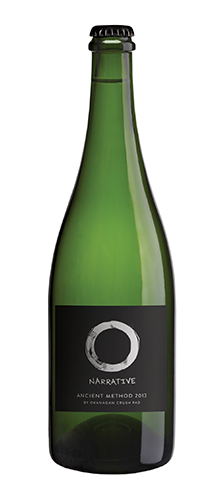 Ancient Method 2015
Sold out
SKU +864710 | 750ml
Brix 18 | pH 3.4 | TA 6.6 | RS 6.0 | Alc 11.5%
FARMERS Theo Siemens, Pedro Parra
OWNERS Christine Coletta, Steve Lornie
LOCATION Garnet Valley, Summerland – Okanagan, British Columbia
VINEYARD Garnet Valley Ranch is a 312-acre (126 ha) organic vineyard and farm established in 2012 on virgin land selected by international terroir specialist Pedro Parra. The team is set to create what will ultimately be 70 acres (28 ha) of vines, without contouring the landscape. The vineyards sit between 600 and 680 meters (2,000 to 2,200 feet) above sea level, making it the highest elevation vineyard site in the Okanagan. This site has good drainage from rocky soils which are a mix of fractured rock with a high level of calcium carbonate encased rock. A constant gentle breeze is present from Okanagan Lake over the mountain crest. Eighteen acres (7.2 ha) are planted to date with Pinot Noir (667, 777, 115 and 828), Chardonnay (96) and Riesling (49). Each vineyard block is fenced separately to allow for wildlife corridors. The farm currently contains sheep and eight acres of organic ground crops.
WINEMAKERS Matt Dumayne, Jordan Kubek
WINEMAKING 100% Pinot Noir fermented with native yeasts in a concrete tank. Bottled at 22 grams of residual sugar during primary fermentation, foregoing any additives or stabilization.
WINE PROFILE The concentration of delicate floral notes harmonize beautifully with a bready depth. It is strangely complex, earthy and raw but also light and ethereal.