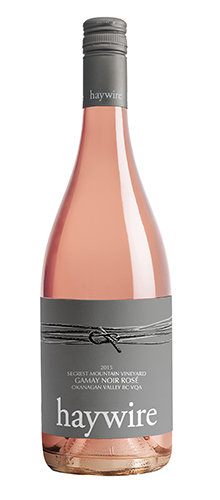 Gamay Noir Rosé 2016
SKU +687103 | 750ml
Brix 23 | pH 3.7 | TA 6.4 | RS 0.5 | Alc 13.5%
FARMERS
Brad & Dave Wise, Theo Siemens
OWNERS
Brad & Dave Wise
LOCATION
Oliver, Okanagan, British Columbia
VINEYARD
Secrest Mountain Vineyard is a 36-acre (15 ha) vineyard situated on a flat, south-west facing bench in a high mountain setting, 487 meters (1,600 feet) above sea level. It is planted with Chardonnay, Gamay Noir, Gewürztraminer, Pinot Blanc, Pinot Gris and Pinot Noir. Flat alluvial soils are studded with course gravel, sandy loam with limestone layers. The Wise brothers are dedicated farmers, in their second year of transition towards organic certification.
WINEMAKERS
Matt Dumayne, Alberto Antonini
WINEMAKING
Twelve hours skin contact after de-stemming, pressed straight to concrete for native yeast fermentation and six months aging.
WINE PROFILE
A delicate salmon hue, lifted berry fruit, with a hint of thyme and spice. Delicate floral and citrus notes dance on the palate. Texturally lush and glossy, with a fresh and lively finish.