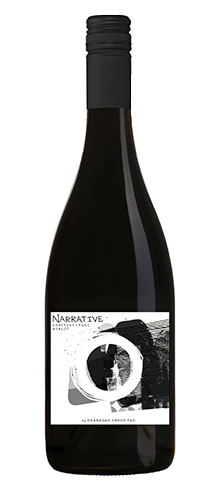 Narrative Red 2016
Sku +771196 | 750ml
Brix 23 | pH 3.9 | TA 5.4 | RS 0.5 | Alc 13.0%
Narrative is a collection of wines and spirits made from grapes sourced from independent growers across the Okanagan. The portfolio tells the story of the Okanagan and its rare climate; one that is home to both an arid desert landscape and snow, in a place that has an intense, short growing season. From this place come wines with natural, fresh acidity and integrated fruit forwardness. Narrative wines and spirits vary from year to year
to showcase the best that each season gives. Narrative offers unique blends, a Syrah, a Riesling, sparkling wines, a fortified wine and distilled products.
WINEMAKER Matt Dumayne
A blend of Cabernet Franc and Merlot with supporting red grapes sourced from the south Okanagan. This easy drinking red is fruit forward with a rich mouthfeel and balanced acidity. This wine is excellent on its own at the end of a long day or is delicious with a meal.