THE Club House @ Crush Pad
THE Club House @ Crush Pad: A Playground For Big Kids
Open for reservations May 9  – Sept 30 2020.  Pre book now. Email clubhouse@okanagancrushpad.com for any inquiries.
May 9 – June 30 & Sept 1 – 31, 2020: 3 night minimum stay
July 1 – August 31, 2020: 4 night minimum stay
THE CLUB HOUSE, a guest house enjoyed by friends of Okanagan Crush Pad winery and those seeking a wine country get-away or the perfect setting for a small multi-generational family gathering. The house was completely redesigned in 2019 and will be opened full time this coming spring.
THE CLUB HOUSE contains two separate suites that when combined offer five bedrooms, three bathrooms and two full kitchens. The house sits on a scenic ten-acre apple orchard in the heart of Summerland's Bottleneck Drive wine route. Four times daily, during the tourist season, the Kettle Valley Steam Train, a heritage excursion train, passes the foot of the property as it makes its return run from Faulder to Trout Creek. The property is a peaceful place to kick back and savour the charm of wine country living. The property offers a secluded location with expansive lawn and options for peaceful orchard walks, croquet or bocce ball, badminton, fire pit and wood burning BBQ in addition to two gas BBQs, (weather permitting). Work out gym in a modern outbuilding complete with heat/air and TV. The suites can be joined and rented to five couples. Grandparents can retire early with young kids while the rest of the family takes in the cool summer evenings and kicks back in wine country.
Terrace Club House
Sleeps six (1 Queen and 2 King beds)
Open concept kitchen/dining room (with dishwasher)
Living room with gas fireplace and TV
Master Bathroom with walk in shower and soaker tub + 2nd Bathroom with walk in shower
Washer/Dryer
Covered deck with patio furniture
Spacious outdoor dinning patio with patio umbrellas
Propane BBQ
Complimentary Wi-Fi + Netflix
Orchard Club House
Sleeps four (2 Queen)
Kitchen/dining room (with dishwasher)
Living/TV room + WiFi + Netflix
Bathroom with tub
Washer/Dryer
Covered dinning deck and adjoining patio
Propane BBQ
Open for reservations May 1 – Sept 30 2020. Pre book now!
WHAT YOU GET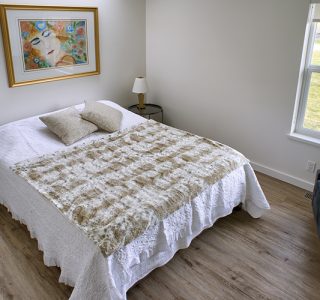 Somewhere to sleep!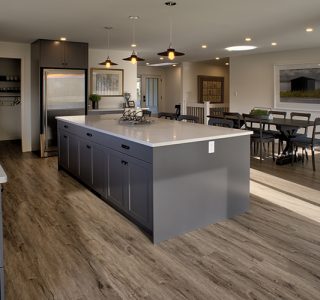 Somewhere to eat!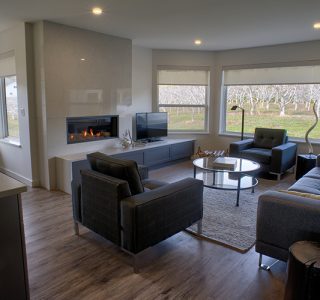 Somewhere to gather!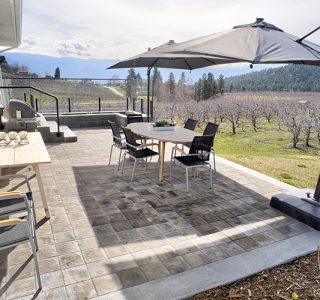 Somewhere to soak up wine country!