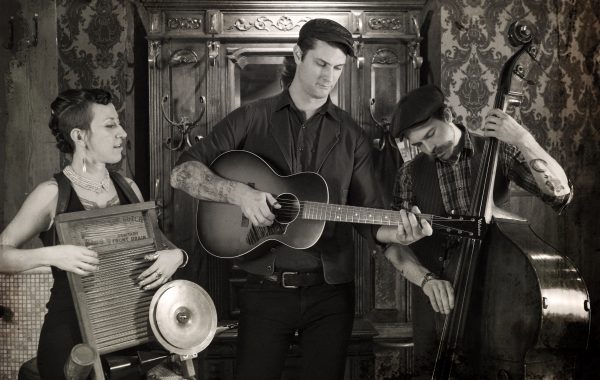 Live @ Crush Pad: The Burying Ground
August 30
Okanagan Crush Pad Winery
16576 Fosbery Road GOOGLE MAPS
7pm
$25 BUY TICKETS
The Burying Ground is an upbeat blues string band that brings the fire of punk to the technical prowess and distinct sound of such early blues, country and jazz masters as Blind Blake, Bessie Smith, Gary Davis, Memphis Minnie, Big Bill Broonzy, and Jimmie Rodgers. The core duo of Devora Laye (washboard, vocal and saw) and Woody Forster (guitar and vocals) are known for songwriting that illuminates the human experience, and reflects the modern day by touching on mental health, the trauma of war, social justice and good old-fashioned lost and found love. It is today's commentary on a framework of vintage music. A rotating cast of masterful backing musicians accompanies Woody and Devora.
At every concert we will provide tables, chairs and a food truck will be on site. There will also be a limited number of house-made charcuterie platters available. Wine will be sold by the glass or bottle.
Tickets are $25 and include a glass of wine. The gate will open at 6:30pm and the show is from 7pm – 9pm. Be sure to purchase your tickets in advance, they do sell out.
Food Truck: The CrAsian Food Truck