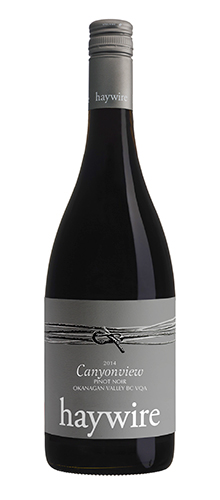 Canyonview Pinot Noir 2014
SKU +845339 | 750ml
Brix: 23.5 | pH 3.8 | TA 5.5 | RS 0.5 | Alc 13.0%
FARMER Garth Purdy
OWNER Krimo Souilah
LOCATION Trout Creek Canyon, Summerland, Okanagan, British Columbia
VINEYARD Canyonview is a 5.5 acres (2 ha) vineyard on four east/west terraces with a south exposure. The land slopes down into Trout Creek Canyon which brings constant air movement. Cool air comes from nearby Okanagan Lake in the summer and the reverse in winter, as the lake zone is warmer. Planted with Pinot Noir (115,667) and Chardonnay (52). The site has soil structures that include alluvial, limestone, granite and volcanic matter.
WINEMAKERS Matt Dumayne, Alberto Antonini
WINEMAKING This is our fourth vintage of Canyonview Pinot Noir. Harvested October 17, the wine was fermented in small batches with wild yeast, and manual punch downs. It was then transferred to age in concrete tanks for 11 months.
WINE PROFILE Classic aromas of wild berries, barnyard, and herbs dominate, while concrete aging adds a lush texture of sweet red fruits and juicy mouth-watering acidity.