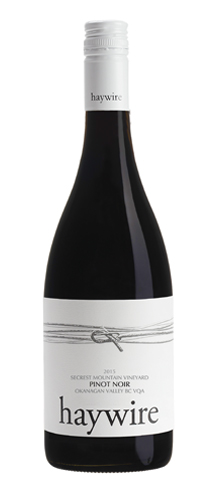 Pinot Noir White Label 2017
SKU +449132 | 750ml
Brix 23 | pH 3.8 | TA 5.2 | RS 0.1 | Alc 13.0%
FARMERS
Duncan Billing
OWNERS
Christine Coletta & Steve Lornie
LOCATION
Oliver, Okanagan, British Columbia
VINEYARD
Secrest Mountain Vineyard is a 50-acre site, home to a 38 acre (15 ha) vineyard situated on a flat south-west facing bench in a high mountain setting 487 meters (1,600 feet) above sea level. This cool site has flat alluvial soils studded with coarse gravel and sandy loam with limestone layers. The vineyard was planted in 2000 with Chardonnay, Gewurztraminer, Pinot Blanc, Pinot Gris, Gamay Noir and Pinot Noir. Since 2010, it has been farmed under the direction of Okanagan Crush Pad and a conversion to organic farming practices was started in 2014. In 2018 when Brad and Dave Wise decided to retire, the winery purchased the property from the family and will carry on with the work that the Wise family has done for the past 18 years.
WINEMAKERS
Matt Dumayne
WINEMAKING
Native yeast was used to ferment the wine in two small clay amphorae and two large Nico Velo concrete tanks. The amphorae wine rested on skins for 9 months and was pressed off in July and blended with the concrete tank wine just prior to bottling.
WINE PROFILE
An entrancing burgundy colour and intense cherry aromas lead to a palate loaded with lively ripe red-berry fruits, exotic spice blends, and earthy characters.