OCP Thanksgiving Wines paired with Recipes by Nathan Fong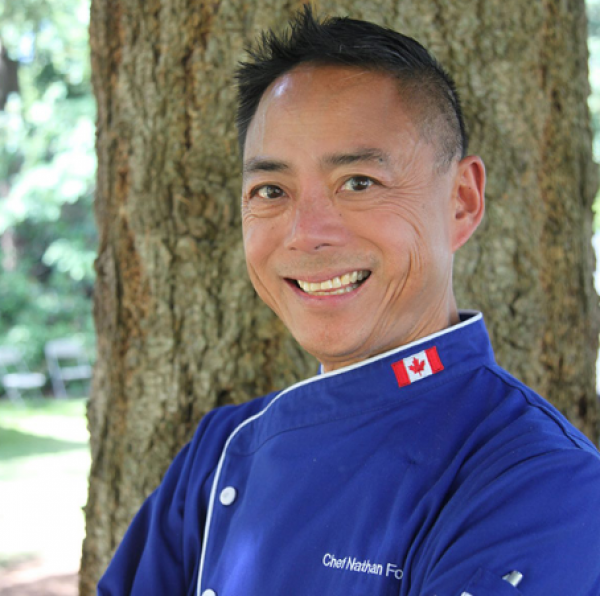 This Thanksgiving, we are sharing Vancouver food legend Nathan Fong's recipes paired perfectly with our team's selection of wines. Nathan, an award-winning food stylist and chef for the BC government, passed away earlier this year. His enthusiasm and love for BC's culinary scene, along with his warm personality, has made him a beloved member of the food community; and it is with great honour that we had the opportunity to work with him and share a few of his celebrated recipes below.



Middle Eastern Mezze platter with Hummus, Babaganoush and an assortment of olives and flatbreads
Paired with Narrative Riesling 2017
Hummus
1 15 oz tin chickpeas (garbanzo beans)
3 cloves garlic
3 tbsp (45 ml) tahini paste
3 tbsp (45 m) olive oil
1 lemon, juiced and zested
¼ tsp (1 ml) dried chili flakes (optional)
salt and pepper, to taste
Place everything into a processor bowl and process and blend until smooth. Season with salt and pepper. Garnish with a bit of paprika and a drizzle of olive oil.
Babaganoush
3 medium eggplants
¼ cup (60 ml) extra-virgin olive oil
2 cloves garlic, coarsely chopped
1 tbsp (15 ml) tahini
½ tsp (2 ml) chili powder
1 tsp (5 ml) ground cumin
2 lemons, zested and juiced
¼ cup (60 ml) finely chopped parsley
salt and pepper, to taste
Directions:
Preheat oven to 400F (200C).
Cut the eggplants in half lengthwise. Score the flesh sides in a crisscross pattern, being careful not to cut through the skins. Brush flesh side with 2 tbsp (30 ml) olive oil then arrange on baking sheet flesh side up. Bake in oven 45 minutes or until soft.
Using oven gloves, scoop the flesh from the eggplants, discarding skin. Place in food processor bowl the eggplant flesh, garlic, tahini, chili powder, cumin and remaining olive oil. Add half lemon zest and lemon juice. Process until smooth. Taste and season with salt and pepper and more lemon zest and juice to desired taste. Stir in parsley and season to taste
Transfer to serving bowl.
Arrange platter with bowls of hummus, babaganoush, assorted olives, marinated artichokes, cherry tomatoes, fresh vegetable crudités and flatbreads and pita.
---

Serves 4 to 6
1 lb (500 g) spaghettini
2 tbsp (30 ml) olive oil
¼ cup (60 ml) butter
6 cloves garlic, minced
½ tsp (2 ml) red chili flakes
finely grated zest and juice of 1 lemon
½ cup (125 ml) Pinot Gris
1 cup (250 ml) whipping cream
1 cup (250 ml) freshly grated parmesan cheese
1 lb (500 g) manila clams or mussels, rinsed and cleaned
1 lb (500 g) medium shrimp, peeled, deveined and rinsed
Directions:
Handful mixture of coarsely chopped fresh basil and flat leaf parsley
Bring a large pot of salted water to a rapid boil. Cook according to manufacturer's instruction to al dente.
While pasta is cooking, heat over medium-high heat the olive oil and butter. When it starts to bubble, add the garlic and red chili flakes. Saute for about 30 seconds, until fragrant, then add the lemon zest and juice, white wine and whipping cream. Bring to a boil and let simmer for about 5 minutes, until reduced and thickened. Increase heat to boiling, then stir in parmesan cheese, then add clams or mussels. Cover for a couple minutes until the shells start to open, then mix in shrimp and cook for an additional 5 minutes until sauce is thickened and shrimp and shellfish are cooked.
Drain the pasta, reserving ½ cup (125 ml) pasta water. Toss pasta with the chopped herbs, sauce and shellfish until well combined. If too thick drizzle some of the pasta water while mixing. Divide into warmed serving bowls.
---

Grilled Blue Cheese Burger with Sautéed Mushrooms
Paired with Free Form Rosé 2018
Serves 4
22 oz (600 g) fresh lean ground beef
½ cup (125 ml) fresh breadcrumbs
1 tsp (5 ml) Tabasco sauce
salt and freshly ground pepper
2 lg eggs
1 tbsp (15 ml) Worcestershire sauce
1 tbsp (15 ml) light soy sauce
8 oz (250 g) Stilton or any good Blue Cheese, crumbled in ½-inch (1.25 pieces)
focaccia bread, cut into 4 squares 5 x 5 inches
condiments such as mayonnaise, mustard, lettuce, onion slices, tomatoes
Sauteed Mushrooms
¼ cup (60 ml) olive oil
2 tbsp (30 ml) butter
1 lb (500 g) white or crimini mushrooms
2 garlic cloves, chopped
salt and freshly ground pepper
1 tsp (5 ml) fresh thyme leaves, chopped
Directions:
Preheat grill to medium.
For the burgers, add lean ground beef, breadcrumbs, Tabasco, salt and pepper, eggs, Worcestershire sauce and soy sauce. Using hands, mix mixture until well blended. Divide and shape into 4 patties.
Place burgers on preheated grill and cooked until desired doneness or heat 1 tbsp (25 ml) olive oil in a skillet until golden brown on both sides. Top patties with blue cheese, cover grill or skillet and allow cheese to melt.
For the mushrooms, heat the olive oil in a skillet over medium-high heat. Add the mushrooms and sauté for 1 to 2 minutes. Add the garlic, salt and pepper and sauté for 1 minute. Mix in the thyme leaves.
Slice the focaccia buns and chargrill on barbecue grill for a minute or so to toast and top with the burger and condiments. Pile mushrooms on top of the burger.
---

Frisée Salad with Lardons, Dried Cherries and Spiced Roasted Hazelnuts
Paired with Haywire Gamay 2017
Serves 4 to 6
5 tbsp (75 ml) olive oil
¼ lb (125 g) thick cut bacon, cut into ½-inch slices, crosswise
2 tbsp (30 ml) apple cider vinegar
2 tbsp (30 ml) finely minced shallot
2 tsp (10 ml grainy mustard
1 tbsp (15 ml) honey
salt and freshly ground pepper
½ cup to ¾ cup (125 to 180 ml) dried tart cherries
1 lg head frisee, torn into small pieces, (about 6 cups)
1 lg Belgian endive, leaves separated, rinsed, cut lengthwise into ¼-inch julienne
½ to ¾ cup (125 ml to 180 ml) Spiced Roasted Hazelnuts (see recipe following)
Directions:
Heat 1 tbsp (15 ml) in a skillet over medium heat. Add bacon and sauté until crisp. Transfer to a paper towel lined baking sheet. Reserve 1 tbsp (15 ml) of the bacon fat and whisk together remaining olive oil, cider vinegar, shallot, mustard and honey until well blended and emulsified.
Season vinaigrette to taste. Stir in dried cherries to coat. Toss together frisée and Belgian endive in a large mixing bowl. Drizzle vinaigrette with cherries and toss well to mix and coat. Divide and transfer to serving plates and garnish with Spiced Roasted Hazelnuts.
Spiced Roasted Hazelnuts
1 lb (500 g) whole shelled hazelnuts
3 tbsp (45 ml) honey
½ tsp (2 ml) ground cumin
½ tsp (2 ml) ground coriander
1.4 tsp (1 ml) cayenne
salt and freshly ground pepper, to taste
Directions:
Preheat oven to 400F (200 C).
Toast the nuts in a shallow baking pan for about 7 to 10 minutes or until just golden in the centre.
While the nuts are toasting, place the remaining ingredients in a small saucepan and heat over low heat, stirring until well incorporated. Pour the honey spice mixture over the toasted nuts, season with salt and pepper and stir. Return the nuts to a parchment paper-lined baking sheet and return to oven for 3 minutes. Remove from oven and stir nuts frequently as they cool. When cool, store in an air-tight container for up to 2 weeks.