There's nothing more chill on a hot summer's day than sipping on a cool glass of organic wine or refreshing cocktail while nibbling on some tasty charcuterie, cheese, or vegan snacks. If you are in Summerland, there is no better place to chill out and cool off than on our shaded patio at Okanagan Crush Pad, complete with refreshing misters.
This summer, our wine shop and patio are open daily from 11 am to 6 pm, and while walk-ins are welcome (subject to availability), it is always better to make an advance reservation to ensure your space.
In addition to our regular sampler organic wine flights ($20 for six premium wines accompanied by pretzel chip and hummus, or $10 for a Flash Tasting of three wines), we are pleased to offer a selection of wines by the glass (Sparkling, White, Rosé or Red) for $12; or chill with one of our classic cocktails – Narrative Gin & Tonic, Summerland Sling, Narrative Gin Caesar or French 75 also $12.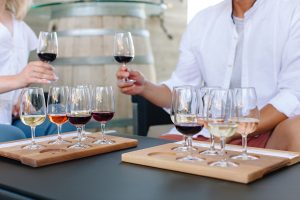 New This Summer – Freezies
It's a hot wine summer! Indulge your inner child with one of our new adult or non-alcoholic kid-friendly Freezies. Freezies are a cool deal at only $6 each. Beat the heat with these options:
Gin & Tonic – made with our Narrative Gin
Riesling and Grapefruit – made with our Narrative Riesling
Savvy Gris and Blood Orange – made with our Bizou + Yukon Savvy Gris
The non-alcoholic selections are great for kids (big or small), are free of charge, and change daily. Example non-alcoholic flavours are Cranberry Splash and Pineapple Grapefruit.
We also offer non-alcoholic drinks for purchase: Lavender Lemonade and Strawberry Mint Refresher for $5, and there's always cold water for both people and dogs.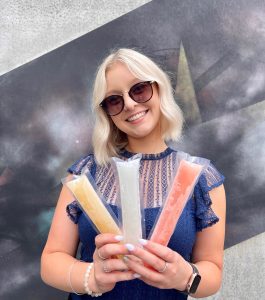 Charcuterie, cheese, and vegan boards, oh my!
Meat Board – Chop N' Block Select – $18
Provencal Herb Salami, Swiss Farmer's Sausage, Bison Summer Sausage
Cheese Board – $18
Terroir Jurassic, Terroir Goaty Cow 'Brie', Balderson Cheddar 2-year
Vegan Board – $18
Sicilian Olives, White Bean Salad, Sliced Marinated Mushrooms.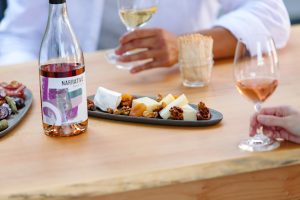 The following Add Ons are available for $6 each
Hummus and Pretzel Chips
Warmed Olives
White Bean Salad
Marinated Mushrooms
Salmon Mousse
Mussels with Cauliflower Rice
Our air-conditioned wine shop, expanded shaded seating, misters, along with our summer food and beverage offerings will have you humming 'Summerland, and the livin' is easy' in no time.