Tasting Notes for Each Virtual Wine Tasting Collection Below
 
Organic Wine Collection
$117 (including taxes) = $137 (less $20 holiday gift)

FREE FORM VIN GRIS 2018 $26.90 plus taxes
Certified Organic Pinot Noir from Summerland was whole bunch pressed to concrete tank, fermented with native yeast, achieved full malolactic fermentation and was bottled unfiltered. Savoury, herbal notes and grippy texture from its time fermenting and ageing in concrete are hallmarks of this unique wine.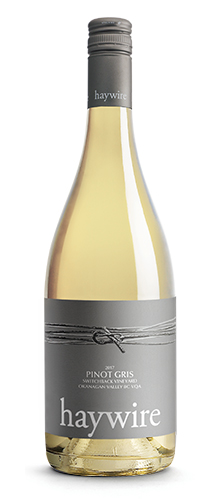 HAYWIRE SWITCHBACK PINOT GRIS 2017 $26.90 plus taxes
Estate-grown Certified Organic Pinot Gris was harvested in four batches and whole cluster pressed to concrete tanks and fermented using native yeasts. The wine went through full malolactic fermentation and was left on lees for 10 months. The wine has a creamy mouthfeel with lively acidity and displays citrus and stone fruit characters with hallmark Okanagan herbal notes on the palate.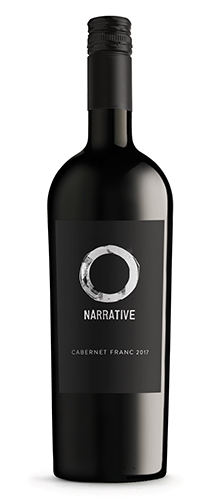 NARRATIVE CABERNET FRANC 2017 $29.90 plus taxes
Cabernet Franc grapes sourced from Certified Organic vineyards in Kaleden and Osoyoos. The wine was fermented using native yeast and then aged in concrete tanks for eight months. Powerful flavours of red fruit coupled with an elegant mid-palate weight and a supple finish. No oak. Unfiltered.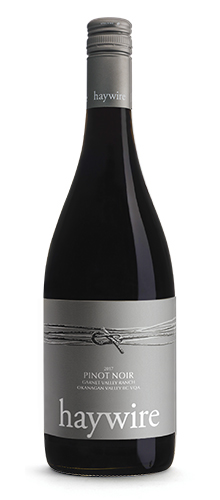 HAYWIRE GARNET VALLEY RANCH PINOT NOIR 2016 $34.90 plus taxes
Certified Organic Pinot Noir fermented using native yeast in clay amphorae. Aged on skins for nine months. Pressed into concrete for two months and then bottled unfiltered. No SO2 or additives used. Intensity, and lots of it; great concentration, juicy acidity with dark black fruits, fruit cake and mocha.
---
Holiday Cheers
$124 (including taxes) = $144 (less $20 holiday gift)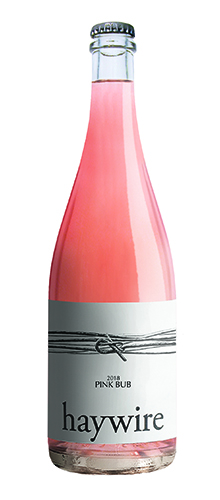 HAYWIRE SPARKLING – PINK BUB 2018 $27.90 plus taxes
A blend of Chardonnay and Pinot Noir from Summerland and Oliver went into concrete tank with secondary fermentation taking place in charmat tanks. A drop of red wine gives this wine its lively colour. Hints of strawberry, a touch of sweetness and nice acidity make this a natural food match.

HAYWIRE VINTAGE BUB 2013 $44.90 plus taxes
Pinot Noir and Chardonnay grapes. This special cuvée was bottled January 2014 and remained on its lees for 52 months. No dosage. With ageing, the wine has achieved balance. Toasted hazelnut aromas are emerging with a creamy red apple palate and white grapefruit freshness to finish. Classic!

NARRATIVE VIOGNIER 2018 $22.90 plus taxes
This Viognier showcases what select vineyards and varietals can achieve. Slow fermentation in concrete tanks has created an intense textural viscosity on top of what this beautiful varietal already displays. Oily and rich with deep tropical notes and a very lengthy finish.

HAYWIRE GAMAY 2018 $26.90 plus taxes
Gamay was gently destemmed with a portion left whole cluster. Fermented in both open top stainless steel and concrete before being combined and aged for eight months in concrete. Unfiltered. Ripe raspberry flavours with a dusting of chocolate and lush texture. Bright acidity is framed by gentle tannins.
---
Big Reds for Winter
$135 (including taxes) = $155 (less $20 holiday gift)

FREE FORM CABERNET SAUVIGNON 2018 $44.90 plus taxes
Certified Organic Osoyoos Cabernet Sauvignon was destemmed into stainless open top tanks. Native yeast fermentation. Twice daily punch-downs, then basket pressed into concrete tanks for 11 months, settled and bottled unfiltered. Bright lifted red fruits, and lush textural notes are framed by supple tannins.

NARRATIVE MALBEC 2017 $34.90 plus taxes
Malbec from Osoyoos destemmed into clay amphorae and a large format oak barrel to ferment using native yeasts. Barrels rolled daily by hand with no air exposure. Left on skins for eight months, pressed and blended into concrete tank for settling. The nose hits with lifted blueberries and raspberries framed by a delicate milk chocolate and floral aromatic profile. The finish is supple yet contains a powerful structure overlaying fresh, juicy Okanagan acidity that can reward ageing or be enjoyed immediately.

NARRATIVE SYRAH 2016 $27.90 plus taxes
Certified Organic Syrah was sourced from the South Okanagan and fermented and aged in our concrete tanks. A delicate style of Syrah exhibiting soft red fruit with classic pepper notes. An intense fruit sweetness of berries, milk chocolate with a hint of spice lead to a long and supple finish framed by ripe gentle tannins.

NARRATIVE NON-FICTION 2017 $26.90 plus taxes
Certified Organic Cabernet Sauvignon and Cabernet Franc from Osoyoos. Fermented and aged in concrete for eight months. Aromas of wild herbs and dark berry fruits that lead into a lush textural mouthfeel and fine supple tannins with a fresh lengthy finish. No oak. It can be done!
---
Pure Whites
$98 (including taxes) = $118 (less $20 holiday gift)

NARRATIVE PINOT BLANC 2017 $22.90 plus taxes
This sophisticated Pinot Blanc was fermented in concrete tank using the native yeasts. The wine has a lovely round palate alive with melon fruit and an herbaceous top note. The 32-year-old vines provide a mouth-watering finish with layers of complexity. An extremely versatile, elegant wine, not to be overlooked.

HAYWIRE SECREST MOUNTAIN CHARDONNAY 2018 $26.90 plus taxes
Certified Organic farmed Chardonnay was whole bunch pressed to concrete tanks. Native yeast fermentation, followed by malolactic fermentation. It was left on lees to build texture and richness for 10 months before bottling unfiltered. Fruit driven style with a creamy, textured mouthfeel and mouth-watering acidity.

FREE FORM SAUVIGNON BLANC 2018 $29.90 plus taxes
Skin contact takes varietals to a new dimension. A Sauvignon Blanc like no other. The wine was made in stainless steel and amphora using native yeast where it aged on skins for nine months. It was pressed and left to rest for an additional two months before bottling unfiltered. Tropical grapefruit and guava, a spiced salinity carries into a juicy and briny flavour explosion.

NARRATIVE RIESLING 2017 $22.90 plus taxes
This Riesling came from a warmer site in Osoyoos and therefore was hand harvested early for retention of juicy acidity and bright fruit flavours. Native fermentation took place in stainless steel followed by eight months of ageing in concrete tanks. The wine is bright and fresh, with a hint of sweetness that perfectly balances its juicy acidity. Pair with soft cheese or slightly spicy dishes.