Our New Cellar Hands are All Paws
The team at Okanagan Crush Pad, creators of Haywire, Narrative, and Free Form wines, is excited to share the launch of Bizou + Yukon, a joyful wine project that pays homage to our beloved Great Pyrenees, keepers of sheep, and guardians of one of the winery's properties in Summerland.
The project has been in the making for many months, but it is timely that wines are being released now during this unprecedented time when British Columbians are craving a light diversion and a little fun.
To begin with, Bizou + Yukon will be launched as a direct-to-consumer offering through the winery online store. Okanagan Crush Pad will commence shipping orders May 7, 2020.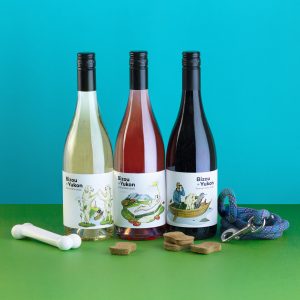 Bizou + Yukon kicks off with three wines: Savvy Gris, a blend of Sauvignon Blanc and Pinot Gris, Savvy Franc, a blend of Cabernet Sauvignon, Cabernet Franc and Merlot, and the Pinkie Rosé, a blend of varieties from various Okanagan vineyards. On each of the 12 custom-created labels is art depicting the dogs and the adventures they live daily at The Ranch, the special property they help protect.
Bizou + Yukon wines are available to order online as a mixed case of 12 (4 bottles of each wine) for $275 (includes tax and shipping). Single bottles will be available for sale later, when the winery is able to re-open to its guests.
Co-owner Christine Coletta is proud and enthusiastic about this release: "The past few months have been hard for many people. It has been a relief to be able to focus on something that I know will bring a smile to people's faces. As winery owners we all work very hard to be taken seriously," she continues. "It's not an easy gig. We sometimes forget that wine is simply about friends, family, and simple enjoyment."
This label promises to be the most fun and lighthearted creation yet by Okanagan Crush Pad. Expect to see this reflected in all branded materials and communication channels. After all, we are talking about wines produced under the supervision of two giant fluffy white dogs.
A work of love and cooperation between the winery team, co-owner Christine Coletta, and the team of designers at Town Hall Brands who helped bring Bizou + Yukon to life, this new wine collection is also a tribute to the hard work that Okanagan Crush Pad's vineyard crew has done to bring biodiversity, nature conservation and organic farming principles to The Ranch.
While wine lovers wait for their wines to ship, they are invited to be entertained by the personality of this brand by going here to read the adventures of Bizou + Yukon. Two fun stories kick things off.
To keep the story going week to week, Bizou + Yukon have one social media profile.
Follow the antics on Instagram @BizouYukon.