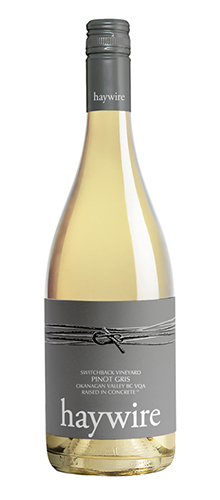 Switchback Organic Pinot Gris 2016
SKU +629444 | 750ml
Brix 22 | pH 3.7 | TA 5.5 | RS 0.6 | Alc 12.9%
FARMERS
Theo Siemens, Pedro Parra
OWNERS
Christine Coletta, Steve Lornie
LOCATION
Summerland, Okanagan, British Columbia
VINEYARD
Switchback Organic Vineyard is surrounded by sage, bunch grass, ponderosa pine, and fruit trees which bring out hallmark aromas in wines from this site. The vineyard was planted 100% with clone 52 Pinot Gris in 2006 and has been farmed organically since 2011. The south east facing site is planted 15° off north south. The soil composition includes silt, gravelly soils with rocks encased in limestone.
WINEMAKERS
Matt Dumayne, Alberto Antonini
WINEMAKING
This wine is the sum of its parts. Precision farmed, harvested and processed in five distinct batches with each lot playing a pivotal role in the final wine, offering structure, acidity, minerality, floral notes and texture. Fermented using native yeasts, full malolactic, and aged in concrete tanks for ten months on gross lees.
WINE PROFILE
Guava and stone fruits dominate aromatically, with a grassy herbal influence. Lush and rich, full malolactic fermentation attributes to a creamy mouthfeel, while early harvesting has retained delicacy and lively acidity.