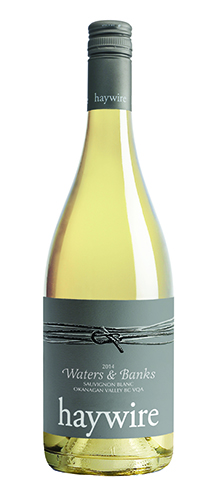 Waters & Banks Sauvignon Blanc 2016
SKU +538421 | 750ml
Brix: 22 | pH: 3.5 | TA: 5.7 | RS: 0.8 | Alc: 13.5%
FARMERS  Theo Siemens, Pedro Parra
OWNERS Terry Waters & Cathy Banks
LOCATION Trout Creek Canyon, Summerland, Okanagan, British Columbia
VINEYARD Waters & Banks is a 7.5 acre (3 ha) vineyard situated east/west on a steep slope with a magnificent lake and valley view that offers a constant gentle breeze. Soil substructures consist of rich limestone and granite. The vineyard, planted with Pinot Noir (115, 667), Sauvignon Blanc (72-1103P) and Merlot (unknown), is in its third year of transitioning to organic certification.
WINEMAKERS Matt Dumayne, Alberto Antonini
WINEMAKING Whole bunch pressed. 100% native yeast and malolactic fermentation in concrete tanks. Seven months on gross lees with no racking.
WINE PROFILE Lively citrus notes and distinct "Okanagan" herbal aromatics. Beautifully balanced by a lush mouthfeel, backed by mouth-watering
acidity.