This is our fifth wine and food pairing in a series developed by celebrated food stylist and journalist Nathan Fong. And we're sure it'll delight you just as much as the previous four (which you can check out here).
Middle Eastern Mezze platters are designed for sharing. As an appetizer, they pack an amazing spread of flavours.
They're also (often) vegetarian. But with the rich flavours and meaty texture provided by the eggplant – they're a crowd favourite for vegetarians and die-hard meat fans alike.
Most of the work for this platter will be done by your blender. So, don't be intimidated by the separate recipes for the Hummus and Babaganoush.
The Wine: Free Form White
First, a little about the Free Form White wine.
It is a blend of three white varieties: Pinot Blanc, Chardonnay and Viognier sourced from three different vineyards. Aged on skins for 8 months, the wines were pressed off and blended into a single large concrete tank in late June and bottled mid-August 2018.
Free Form wines are made locally at the Okanagan Crush Pad winery in Summerland. Made from organic grapes and native yeast, the Free Fall White is additive-free.
The Free Form White has notes of guava and fresh pineapple intermingled with a slight floral herbaceousness.
The unique and wonderful flavour profile is built on the foundation of extended skin contact, gentle pressing and a period of rest before bottling. The entire process is overseen by chief winemaker Matt Dumayne.
You can read more about it on our Free Form White Tech Sheet.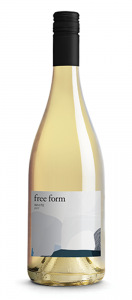 Pairing Palate
The crisp palate with juicy acidity, tropical fruits and firm structure will reward pairing with roasted lemon poultry and hearty vegetables – just like those you'll find in our Mezze recipe.
Wine and Food Pairing Recipe: Middle Eastern Mezzo Platter with Hummus, Babaganoush and an Assortment of Olives and Flatbreads.
Component 1: Hummus
Ingredients
1 15 oz tin chickpeas (garbanzo beans)
3 cloves garlic
3 tbsp (45 ml) tahini paste
3 tbsp (45 m) olive oil
1 lemon, juiced and zested
¼ tsp (1 ml) dried chilli flakes (optional)
salt and pepper, to taste
Instructions
Place everything into a processor bowl and process and blend until smooth.
Season with salt and pepper.
Garnish with a bit of paprika and a drizzle of olive oil.
Component 2: Babaganoush
Ingredients
3 medium eggplants
¼ cup (60 ml) extra-virgin olive oil
2 cloves garlic, coarsely chopped
1 tbsp (15 ml) tahini
½ tsp (2 ml) chilli powder
1 tsp (5 ml) ground cumin
2 lemons, zested and juiced
¼ cup (60 ml) finely chopped parsley
salt and pepper, to taste
Instructions
Preheat oven to 400F (200C).
Cut the eggplants in half lengthwise.
Score the flesh sides in a crisscross pattern, being careful not to cut through the skins.
Brush flesh side with 2 tbsp (30 ml) olive oil then arrange on baking sheet flesh side up.
Bake in oven 45 minutes or until soft.
Using oven gloves, scoop the flesh from the eggplants, discarding skin.
Place the eggplant flesh, garlic, tahini, chilli powder, cumin and remaining olive oil in the food processor bowl. Add half lemon zest and lemon juice.
Process until smooth.
Taste and season with salt and pepper and more lemon zest and juice to desired taste.
Stir in parsley and season to taste.
Transfer to a serving bowl.
Presentation
Arrange platter with bowls of hummus, babaganoush, assorted olives, marinated artichokes, cherry tomatoes, fresh vegetable crudités and flatbreads and pita.
Falling for Our Free Fall Wine Pairing
Of course, the Free Fall White pairs well with any hearty vegetable dish – as well as with poultry. If you're looking for a unique, never-to-be-repeated white to whet your appetite and wet your taste buds, look no further.
While the crush pad is closed for the season, you can still get your hands on the Free Form White Wine (and any others from our collection). Our online store is always open.