Pumpkin spice lattes are extra warm and comforting during this time of year, but October is also the perfect time to enjoy a Fall inspired wine and food pairing. Ultimate comfort can be experienced from sipping slowly on a fine glass of Okanagan red wine while eating a warm and comforting dinner entrée.
To complement the season of seeking warmth in the form of food and beverages, our second Nathan Fong wine and food pairing segment is Fall-inspired.
Gamay Grapes & Lardons: A Wine and Food Pairing Match Made in Heaven
In order to truly understand why lardons—fatty (and heavenly) pieces of bacon—pair so well with a naturally crafted Gamay wine, one must first understand the unique nature of our Gamay grapes and how we cultivate them.
Our Gamay grapes are organically farmed at our high elevation Seacrest Mountain Vineyard and fermented in a combination of open-top and concrete before ageing for 8 months in large Nico Velo concrete tanks.
Prior to the fermentation process, these grapes are gently destemmed with a portion of the whole cluster left for carbonic complexity; this "complexity" is evident in the consumer's first sip of this wine, where it's guaranteed he or she will experience both light and full-bodied flavours at the same time.
Winemaker Matt Dumayne highlights the complexity of this wine perfectly, describing it as "a red wine infused with bright fruit and chocolate notes framed by gentle tannins". This complex red wine is known as our Haywire Secrest Mountain Gamay 2017, which pairs exceptionally well with Nathan Fong's Frisée Salad, Lardons, Dried Cherries and Spiced Roasted Hazelnuts dish.
The fattiness of the roasted hazelnuts and lardons undercut the fruity component of this particular wine while the lightness of the frisée and dried cherries balance out the wine's full-bodied notes of chocolate.
Want to put this wine and food pairing to the test? To get you started, we've shared this blog's feature recipe below.
Wine and Food Pairing Recipe: Frisée Salad, Lardons, Dried Cherries and Spiced Roasted Hazelnuts
Serves 4 to 6
5 tbsp (75 ml) olive oil
¼ lb (125 g) thick-cut bacon, cut into ½-inch slices, crosswise
2 tbsp (30 ml) apple cider vinegar
2 tbsp (30 ml) finely minced shallot
2 tsp (10 ml grainy mustard
1 tbsp (15 ml) honey
salt and freshly ground pepper
½ cup to ¾ cup (125 to 180 ml) dried tart cherries
1 lg head frisée torn into small pieces, (about 6 cups)
1 lg Belgian endive, leaves separated, rinsed, cut lengthwise into ¼-inch julienne
½ to ¾ cup (125 ml to 180 ml) Spiced Roasted Hazelnuts (see recipe following)
Heat 1 tbsp (15 ml) in a skillet over medium heat. Add bacon and sauté until crisp. Transfer to a paper towel-lined baking sheet. Reserve 1 tbsp (15 ml) of the bacon fat and whisk together remaining olive oil, cider vinegar, shallot, mustard and honey until well blended and emulsified.
Season vinaigrette to taste. Stir in dried cherries to coat. Toss together the frisée and Belgian endive in a large mixing bowl. Drizzle vinaigrette with cherries and toss well to mix and coat. Divide and transfer to serving plates and garnish with Spiced Roasted Hazelnuts.
Spiced Roasted Hazelnuts
1 lb (500 g) whole shelled hazelnuts
3 tbsp (45 ml) honey
½ tsp (2 ml) ground cumin
½ tsp (2 ml) ground coriander
1.4 tsp (1 ml) cayenne
salt and freshly ground pepper, to taste
Preheat oven to 400°F (200°C).
Toast the nuts in a shallow baking pan for about 7 to 10 minutes or until just golden in the centre.
While the nuts are toasting, place the remaining ingredients in a small saucepan and heat over low heat, stirring until well incorporated. Pour the honey spice mixture over the toasted nuts, season with salt and pepper and stir. Return the nuts to a parchment paper-lined baking sheet and return to oven for 3 minutes. Remove from oven and stir nuts frequently as they cool. When cool, store in an air-tight container for up to 2 weeks.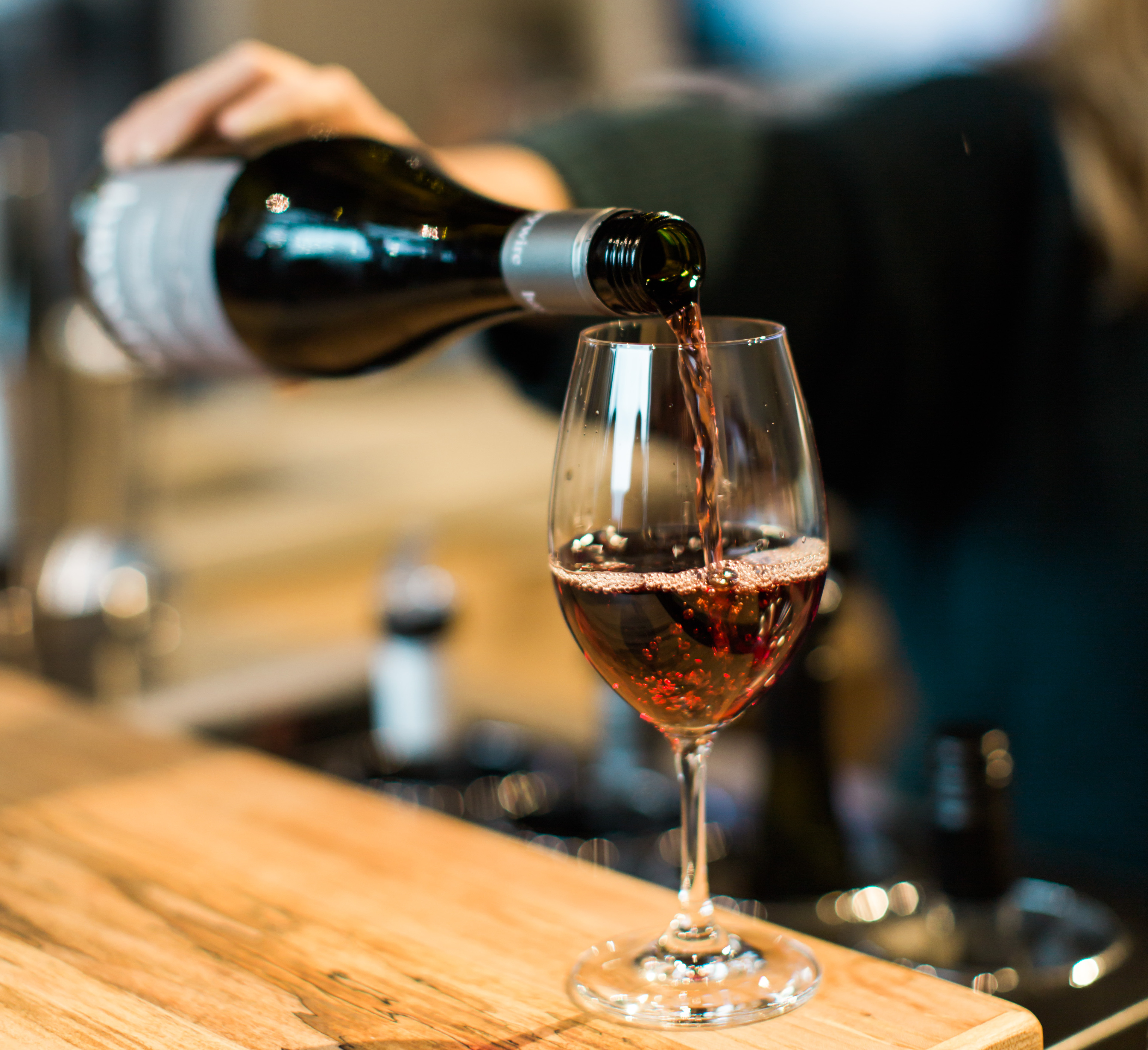 Time to Enjoy Your Fall-Inspired Wine and Food Pairing
With a bottle of our Secrest Gamay and this entrée, you'll undoubtedly feel all the cozy feels—no pumpkin spice latte or cashmere sweater necessary. Stay tuned for our third blog in the Fong series and in the meantime, check out the first blog in the series, Wine and Food Pairing 101: Grilled Blue Cheese Burger with Narrative Cabernet Franc.
Our Tasting Room and Patio is closed for the season, but you can still indulge in a large glass of Gamay in the comfort of your own home when your order online!