The idea of sipping on Okanagan wine all day long with loved ones, and re-stocking your Okanagan wine collection while you're at it, is exciting (which is why you may be planning to organize an Okanagan wine tasting this Summer).
However, it's not uncommon for the pre-wine tour excitement to turn into an anxiety-filled morning where you're frantically pulling outfits apart in your closet, ripping the drawers out of your bureau, or trying to find that "works every time" SPF under-eye concealer. The raccoon circles that encompass your peepers are just one out of many indications that you need this wine tour day of bliss.
And does an Okanagan wine tasting even require justification? We think not.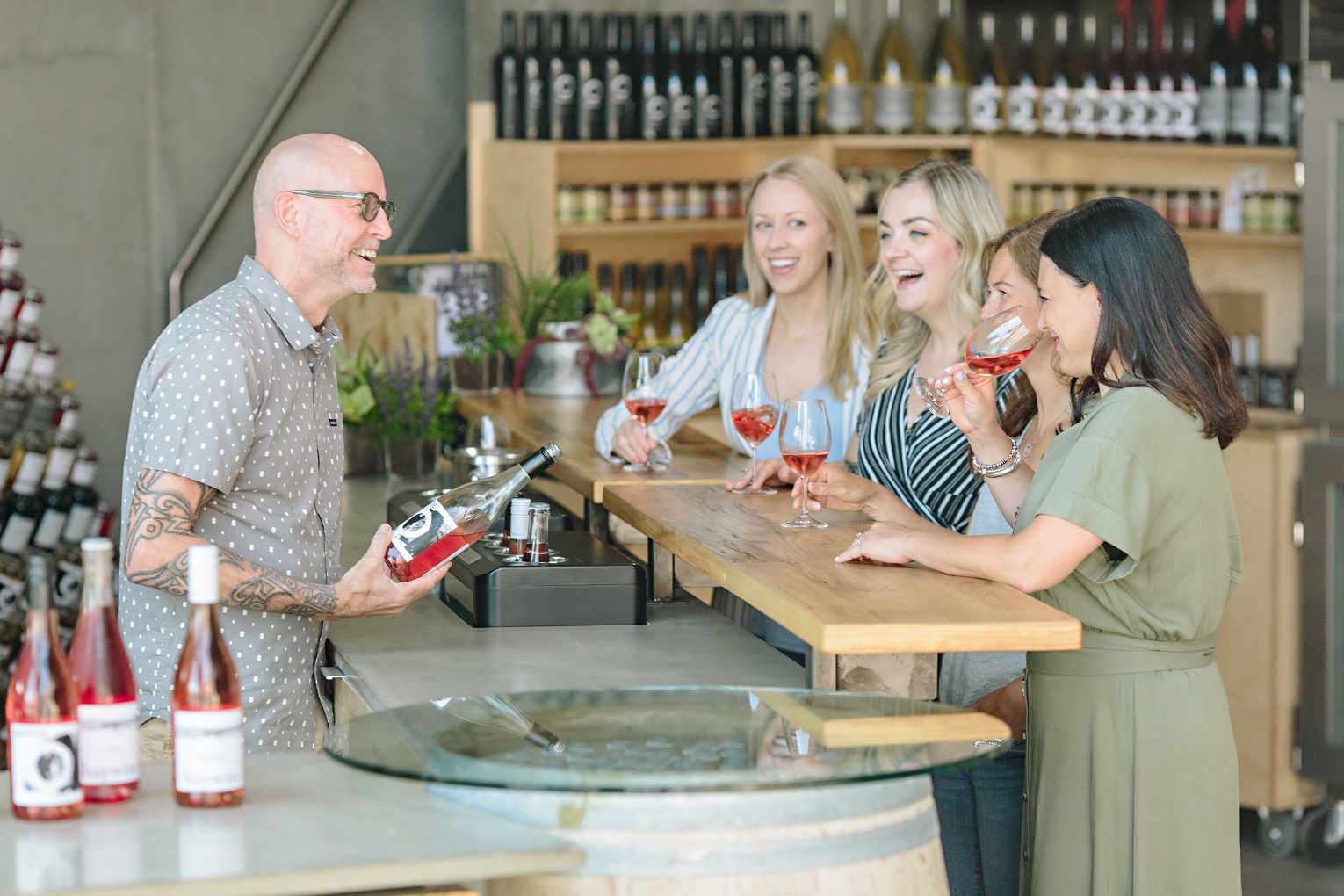 Okanagan Wine Tasting Outfit Ideas—Why? Well, Wine-Not?
Let's face it. Dressing up for any occasion is fun whether we want to admit it or not. But an Okanagan wine tasting definitely calls for some pre-planning and wine tasting outfit ideas.
You'll want to get as much enjoyment out of this day as possible; for you, this may mean feeling totally comfortable (rain or shine) while also looking wine country chic (because if you have one too many glasses of wine, no one will notice—you'll still look like the classy babe or dude you are).
You also can't forget the classic wine tour group photos (sometimes unsuspectingly candid) that will live for eternity on Instagram and Facebook.
Another reason to consider some Okanagan wine tasting outfit ideas is that Okanagan weather can be completely unpredictable. 10 minutes before your wine tour entourage picks you up, it's sunny; 20 minutes after pick-up, it's raining cats and dogs.
Below are some wine tasting outfit ideas that can save you some stress and ensure you are more focused on the flowery peach notes in your Sauvignon Blanc than on the weather outside or the colour of shirt you're wearing.

An Okanagan Wine Tasting does not Pair Well with White
Wearing a white outfit can enhance your summer glow during your Okanagan wine tasting. But do you really want to be worried about spilling red on your white summer dress or shirt every time you take a sip of Cabernet Franc?
(We didn't think so either).
You also don't want to be wearing black. Although black is classic, it can attract heat, which during a wine tasting out on the verandah, is not ideal.
Bring some fun to your wine tasting outfit and swap a solid for a print. Instead of a solid navy dress, wear a dress with a pattern. Wear a floral shirt or dress in the spring, stripes in the summer, plaids & tartans in the fall and houndstooth in the winter.
Men, this goes for you too—have some fun and add a splash of randomness to your wine tasting wardrobe.
Shoe Selection during an Okanagan Wine Tasting
Complement your patterned outfit with cream or pastel-coloured loafers or open toe-wedges; your feet and your outfit will be thanking you.
Open-toe wedges are flattering and usually comfortable and supportive. Foot and ankle support is key to any successful Okanagan wine tour as you may be on your feet most of the day, the vineyard terrain may have some unexpected bumps and divots, and, let's face it, too much Rosé can make one a little less graceful.
If you do decide to wear heels and go exploring the vineyards during your wine tour, be mindful that the heel of your stiletto(s) may actually sink into the grass.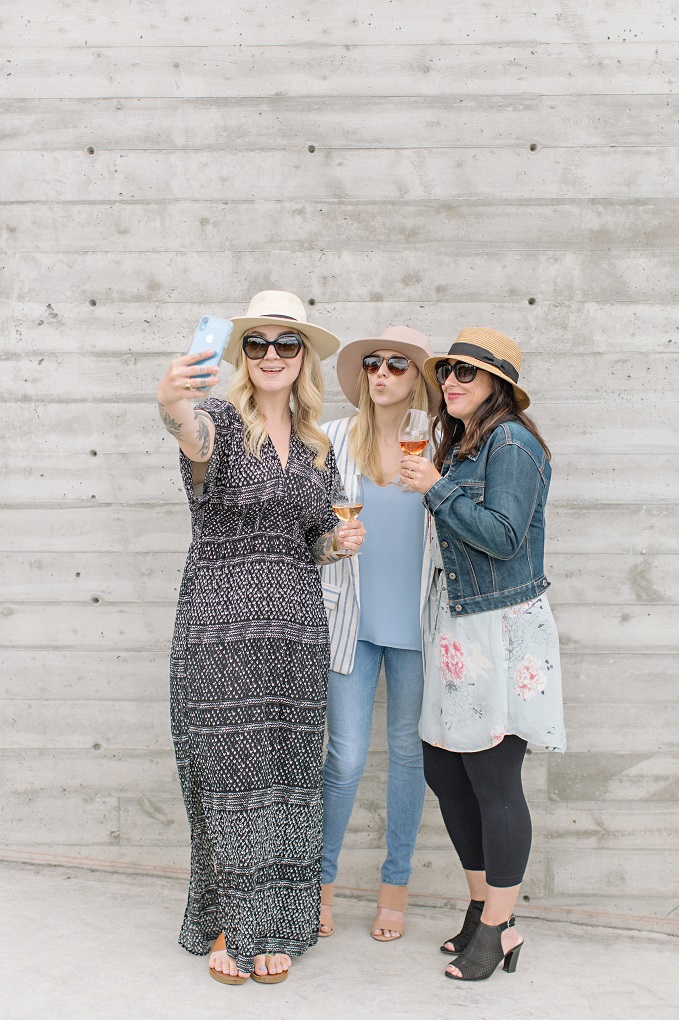 Other Accessories for an Okanagan Wine Tasting
To complete your look, add in a Brixton or Kangol hat for that element of wine-country chic, and, a nude-toned purse that can hold the wine tour essentials: your phone, lipstick, wallet, deodorant (the sun may be beating down on you regardless of what you're wearing), sunglasses, and a cardigan (in case the weather cools down due to rain or you go inside an urban winery), and, some sparkly flip flops.
If your feet get sore, or you're feeling the onset of Saturday Night fever, your flip-flops will be your saving grace. And a bit of sparkle never hurt anyone.
Okanagan Wine Tasting Dress Code—is there one?
When it comes to Okanagan wine tasting attire, there are no specific rules or dress codes.
Everyone has their own personal and unique style which is something to be celebrated. However, there are a couple of pointers to keep in mind when picking out that perfect wine tasting outfit:
Comfort: Find something that you feel 100% comfortable in because if you're feeling anything less than comfortable, uncontrollable factors like the temperature, weather, standing on your feet, and crowds, could bring that comfort level down significantly. You are in control of your style, so do your best to make it work for you.
Length: Whether it's pants, a dress, or a skirt, you don't want something that's dragging on the ground/you're tripping over, nor do you want something so short that you're more concerned about your undergarments showing than the delightful glass of wine in front of you.
Whether you are sitting outside on a terrace soaking in the sun or standing in the coolness of an urban winery, your Okanagan Wine tour will be most successful if you're feeling confident and comfortable.