The holiday season is fast approaching and it's time to start thinking about what to serve your guest, and more importantly, what wine to pair with your dish! Enjoy sipping on a great glass of Okanagan wine while you enjoy your holiday parties!
Our third wine and food pairing from Nathan Fong will make everyone at the Holiday Party want to go back for seconds!
Pinot Noir Paired with Salmon & Wild Mushrooms, Pairings Don't Get Much Better Than This!
First, let us tell you a little bit about our Waters & Banks Pinot Noir. We harvest these grapes from Waters & Banks vineyard in Trout Creek Canyon here in beautiful Summerland, BC. This vineyard is situated on a steep slope with magnificent lake and valley exposure that offers a constant gentle breeze, with soil substructures consist of rich limestone and granite this is the perfect place to grow Pinot Noir grapes. Once harvested the wine is fermented in small batches with wild yeast and manual punch downs. It is then transferred to age in concrete tanks for 11 months.
Winemaker Matt Dumayne describes our Waters & Banks Pinot Noir as a quintessential Okanagan wine as it has the hallmark silkiness with just a touch of spice along with the signature dry grass and sage backbone. It displays rich red fruits, with a delectable earthiness and light forest floor notes. It's no wonder this wine pairs so amazingly with Wild Mushrooms.
This recipe uses two types of wild mushrooms, shiitake and shimeji. The shiitake mushroom pairs well with both the miso salmon and our Waters & Pinot Noir thanks to their rich and buttery flavour. Blended with the shimeji mushrooms, the flavours are truly amazing. Shimeji mushrooms once cooked have a mildly nutty flavour with a lightly sweet taste.
Our mouth is watering just thinking about eating a fork-full of miso salmon and wild mushrooms. Adding in a sip of the Pinot Noir makes for a magical experience.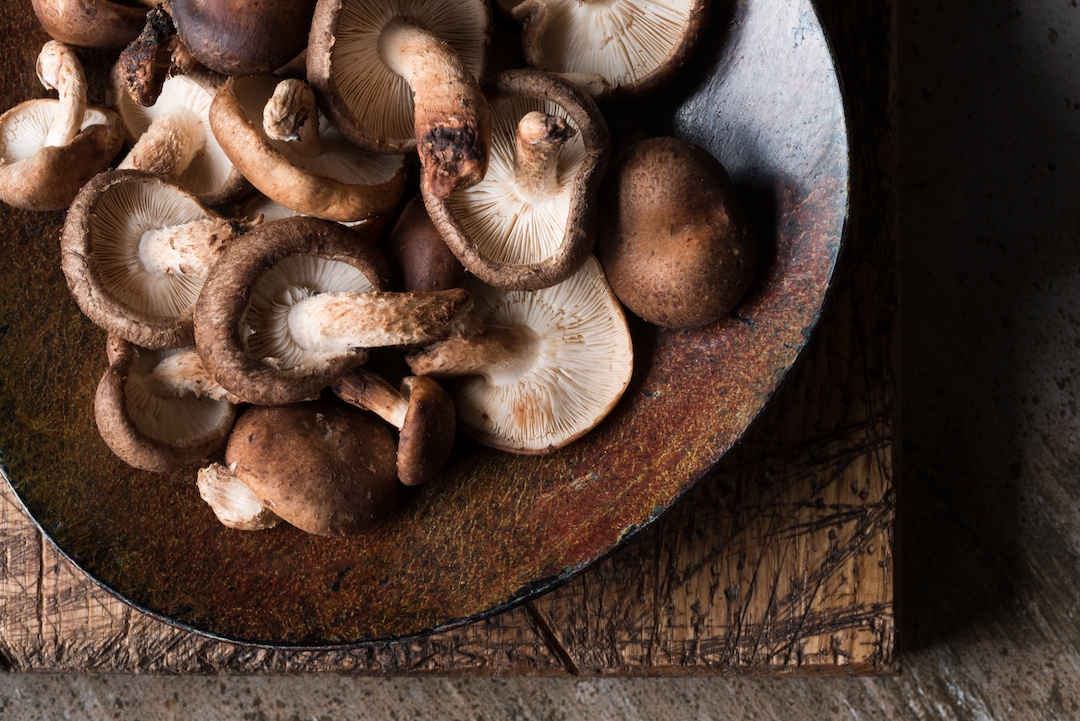 Wine and Food Pairing Recipe: Grilled Miso Salmon with Wild Asian Mushrooms
Serves 4 to 6
1 whole salmon fillet with skin, pin bones removed
1 cup (250 ml) shiro miso (white soybean paste), low sodium
2 tbsp (15 ml) mirin
2 tbsp (30 ml) sake or white wine
1 tbsp (15 ml) brown sugar
1 tbsp (15 ml) finely minced ginger
3 tbsp (45 ml) olive oil
½ lb (250 g) fresh shiitake mushrooms, stems discarded and caps thinly sliced
1 pkg shimeji mushrooms, roots removed and mushrooms separated
1 cup (250 ml) chopped cilantro leaves
½ cup (125 ml) fresh chives, cut into ½-inch (1.25 cm) lengths.
3 tbsp (45 ml) mixture of fresh orange, lime, lemon, yuzu or sudachi juice.
Sesame seeds and chives
Line a shallow baking pan with edges with plastic wrap and arrange salmon filet, skin side down. Stir together remaining ingredients until well mixed and spread a thin layer over flesh sides of salmon to completely cover. Cover with plastic wrap and chill to marinate 24 to 48 hours.
Heat the 3tbsp (45 ml) oil in a 12-inch nonstick skillet over high heat until hot but not smoking. Add mushrooms and sauté with salt to taste, stirring occasionally, until golden brown and nearly dry, 15 to 20 minutes.
Move saucepan fro mushrooms to cool and transfer to a bowl. Just before serving, toss mushrooms with cilantro and chives. Set aside.
Preheat oven to 450F.
To roast salmon arrange salmon fillet, skin side down, in a well-oiled long foiled lined baking sheet.
Roast salmon in upper third of oven, turning baking sheet around after 10 minutes until edges begin to brown and salmon is just cooked through. Transfer to a large platter using two large spatulas.
Drizzle citrus juices over salmon and garnish with mushroom mixture.
Garnish with sesame seeds and chives.
Holiday Inspired Ingredients Makes for a Great Pairing
With the Holiday Season upon us, there is no better way than to celebrate with friends and family. The festivities are best had when you get to share a fantastic meal together, and we think our Miso Salmon with Wild Mushrooms together with a bottle of the Waters & Banks Pinot Noir from the Okanagan is a great place to start! Our next Wine and Food Pairing 101 article will be released next month, but if you are looking for more dishes to make for the holidays, check out our second installment, Wine and Food Pairing 101: Gamay 2017 with Firsée Salad, Lardons, Dried Cherries and Spiced Roasted Hazelnuts.
We are now closed for the season at the Tasting Room, but we are always open online! Check out our online store if you are in need of Gifts for family and friends (or something for yourself – we won't judge!)