This is our final wine and food pairing blog before the Holiday season and we couldn't be more excited about this one because it incorporates seafood!
This is a special dish to serve for any dinner parties and get-togethers. Plus, this recipe takes very little time to make.
That leaves you time to indulge in a little bit of the 2017 Switchback Pinot Gris while you cook.
This is our fourth wine and food pairing from Nathan Fong, and it is sure to be a crowd-pleaser!
Pinot, Pasta and Prawns
Let's talk about the wine first, then we can cover the details of the food. The 2017 Switchback Pinot Gris has a creamy mouthfeel with lively acidity and displays citrus and stone fruit characters with hallmark Okanagan herbal notes on the palate.
Our Switchback vineyard is located in Summerland, BC, and surrounded by sage, bunch grass, ponderosa pine, and fruit trees. The surrounding fruit trees are what make it possible to bring out those hallmark aromas in wines from this site. This vineyard was planted 100% with clone 52 Pinot Gris in 2006 and it has been farmed organically since 2011. With a soil composition that includes silt, gravelly soils with rocks encased in limestone, this region is perfect for producing a lively Pinot Gris.
The grapes harvested to create this Pinot Gris were gathered in four separate batches throughout the month of October. They were then whole-cluster-pressed in concrete tanks where it was fermented using native yeasts. The wine went through full malolactic fermentation and was left on gross lees for 10 months.
Now for the food! Pasta and Prawns are a fantastic pair, especially when you are adding a lemon cream sauce to the mix. Spaghettini is a staple in Italian cuisine, making it an incredibly easy pasta to cook and fun pasta to eat.
Our recommendation is to twirl it up in a fork, add a prawn and enjoy. Nathan Fong incorporated a lemon cream sauce for this recipe, and it goes perfectly with the citrus notes from the Pinot Gris. All of these flavours mixing together creates an explosion on your palate.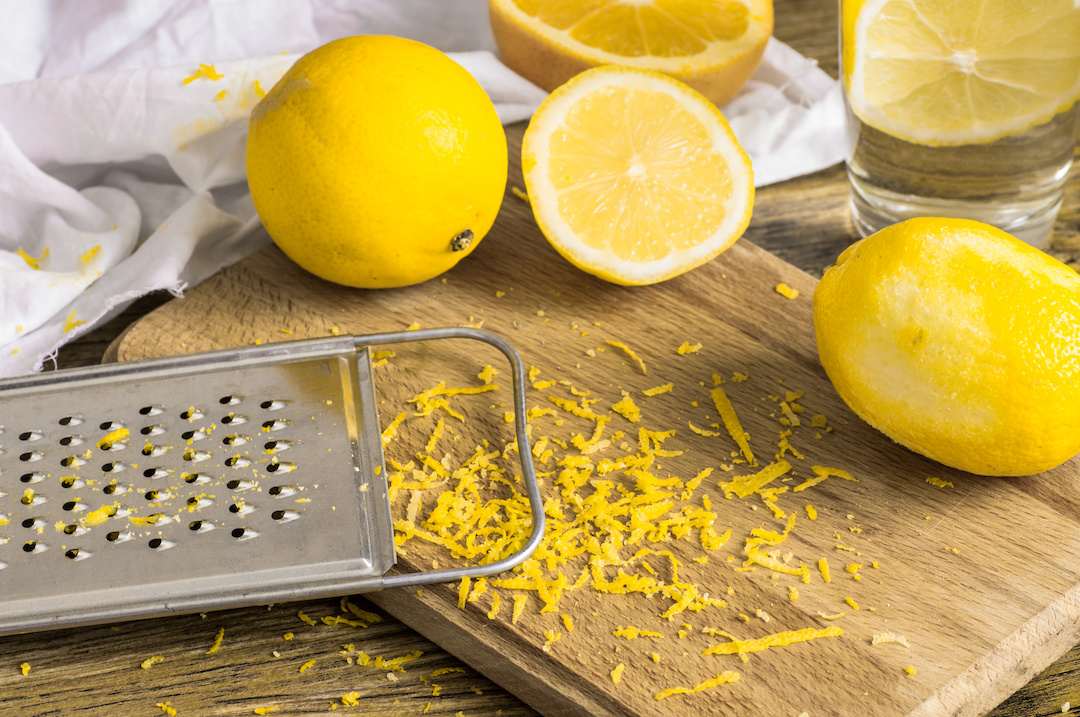 Wine and Food Pairing Recipe: Lemon Cream Spaghettini with Prawns and Clams
Serves 4 to 6 
1 

lb

 (500 g) 

spaghettini

 

2 

tbsp

 (30 ml) olive oil

 

¼ cup (60 ml) butter

 

6 cloves garlic, minced

 

½ 

tsp

 (2 ml) red chili flakes

 

finely

 grated zest and juice of 1 lemon

 

½ cup (125 ml) Pinot Gris

 

1 cup (250 ml) whipping cream

 

1 cup (250 ml) freshly grated 

parmesan

 cheese

 

1 

lb

 (500 g) manila clams or mussels, rinsed and cleaned

 

1 

lb

 (500 g) 

medium shrimp, peeled, deveined and rinsed

 

H

andful mixture of

 coarsely chopped fresh basil and

flat-leaf parsley

 
Instructions
Bring a large pot of salted water to a rapid boil. Cook according to manufacturer's instruction to al dente.

 

While pasta is cooking, heat over medium-high heat the olive oil and butter.

When it starts to bubble, add the garlic and red chili flakes.

Saute

 for about 30 seconds, until fragrant, then add

 the lemon zest and juice, white wine and whipping cream.

Bring to a boil and let simmer for 

about

 5 minutes, until reduced and thickened.

Increase heat to boiling, then

 stir in 

parmesan

 cheese, then 

add clams or mussels. Cover for a couple of minutes until the shells st

art to open, then mix in shrimp and cook for an additional 5 minutes until sauce is thickened and shrimp and shellfish are cooked.

 

Drain the pasta, reserving ½ cup (125 ml) pasta water. Toss pasta with the chopped herbs, sauce and shellfish until well combined. If too thick drizzle some of the pasta water while mixing.

Divide into warmed serving bowls.

 
Wine and Food Pairings for the Holidays
Celebrate this holiday season with, friends, family, food and some Okanagan wine. Whether you are going to gather in a large or small group, this pairing is sure to bring a smile to everyone's face.
Our next Wine and Food Pairing 101 blog will be released after the Holiday season, but we promise it will be just as amazing.
If you need inspiration for any other gatherings, you can always check out our previous pairing posts. For example, our Wine and Food Pairing 101: 2015 Pinot Noir with Salmon and Wild Mushrooms is a great dish to tickle your taste buds!
If you need to get your hands on any of the 2017 Switchback Pinot Gris, we have you covered! You can shop on our website and we will deliver it to your door!