At Okanagan Crush Pad, our wine-making processes redefine the organic wine experience. How? When you take a sip of wine, you are tasting the result of a mindful wine-making process.
At 680 meters above sea level, our vineyard is the highest altitude vineyard in BC. This factor combined with Summerland's northern desert settings of intensely hot days, cool evenings and a short growing season creates a unique taste that Okanagan Crush Pad aims to embody all in one sip of a well-crafted wine.
In addition to practicing organic viticulture, we incorporate biodiverse farming and therefore, there is little to no chemical intervention in the wine-making process and no pesticides used in our vineyards.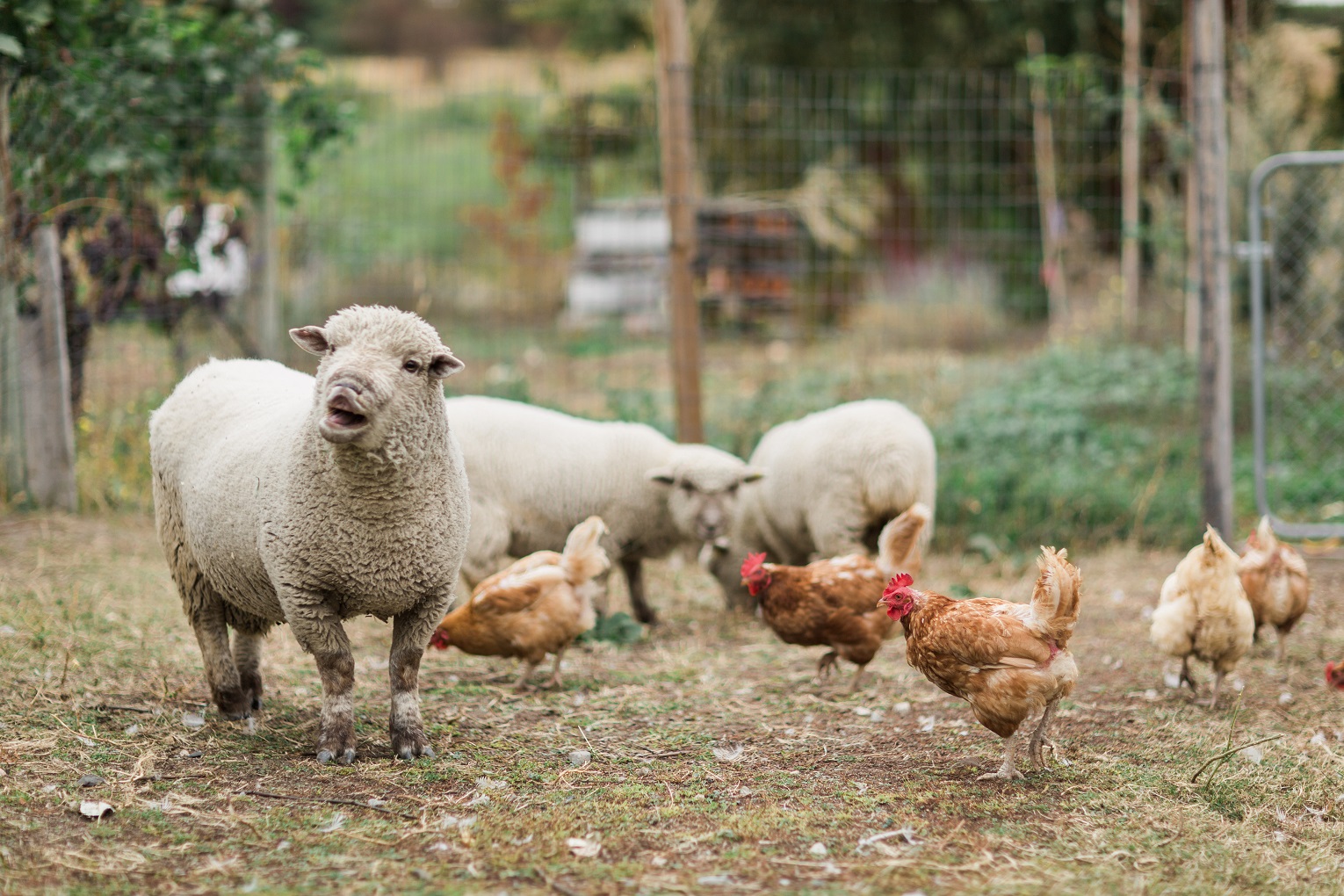 No Pesticides? No Problem!
We rely on our "feathered" and "furry" vineyard workers to ensure there are no bugs destroying our grapevines. If you've come to our Crush Pad patio for some charcuterie and a glass of vino, you've probably seen chickens and ducks roaming around the rows of vines. At Garnet Valley Ranch, you may have seen our sheep and two guardian dogs, Bizou and Yukon. Our animals are not only fun to visit and take photos of, but each animal group plays a valuable role in tending the vineyard:
Great Pyrenees dogs: protect the sheep from predators a.k.a security duty
Sheep: Eat the weeds and fertilize the vineyards a.k.a weed control duty
Chickens: Eat cutworms and other pests that could harm the vines a.k.a. pest control duty
Additionally, we release thousands of ladybugs and praying mantis eggs onto our vineyards. These beneficial bugs are surrounded by an endless food supply of leafhoppers, aphids and other bugs that typically like to chomp on the vines. Simply by eating and surviving, the ladybugs and praying mantis's keep our vines alive and thriving.
Not only do we protect our vines with non-invasive practices, but we nourish them by feeding them seaweed and compost on a foliar basis (rather than using petroleum-based fertilizers).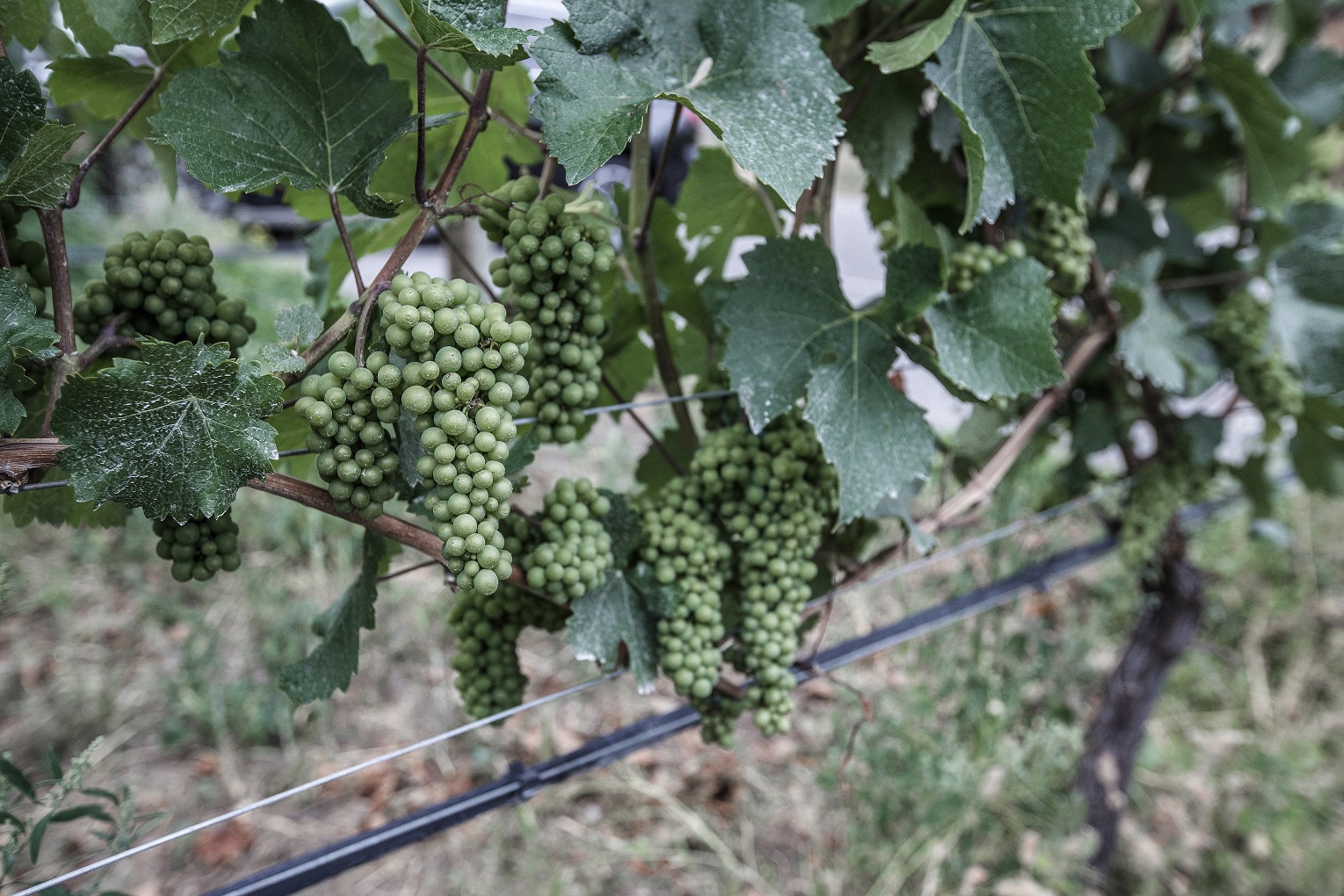 Mindful Viticulture
OCP has made socially responsible investments towards habitat restoration, conservation and forward-thinking in using environmental practices in our vineyards. We hope this kind of commitment is encouraging and helps to build a more ecologically minded and responsible community.
Like most individuals who want to create a vineyard, we had to farm our land before we could plant the rows and so on.
For pure natural wines to be crafted from our vineyard, we knew that our vineyard had to be founded on biodynamic and organic farming practices. This required us to execute mindfulness during farming.
We focused our efforts on not disturbing the land or its' inhabitants in (and we continue to execute this conscious way of farming). For example, we leave corridors between fenced vineyard plots for the animals to roam around on because we recognized this was their home first.
To preserve the integrity of the land, we refrained from moving too many rocks and plants around as this could impact the natural disposition of the soil and the life flourishing within it.
We created biodiversity by adding 8 acres of vegetables, which are farmed organically and sold to local fruit stands, restaurants, and local families.
In addition, we built a pond which has encouraged more birds and wildlife to flock to the area. At this site, more than 60 different bird species were identified this past summer. Fifteen acres have been dedicated to a nature conservancy program. Fields that were used for grazing cattle have been returned to natural habitat.
The result? 8-acres of organic vegetables and eventually, a 100-acre vineyard where animals, natural habitat, grapes, and humans co-exist in harmony.
A happy growing environment equates to lively, delicious wine.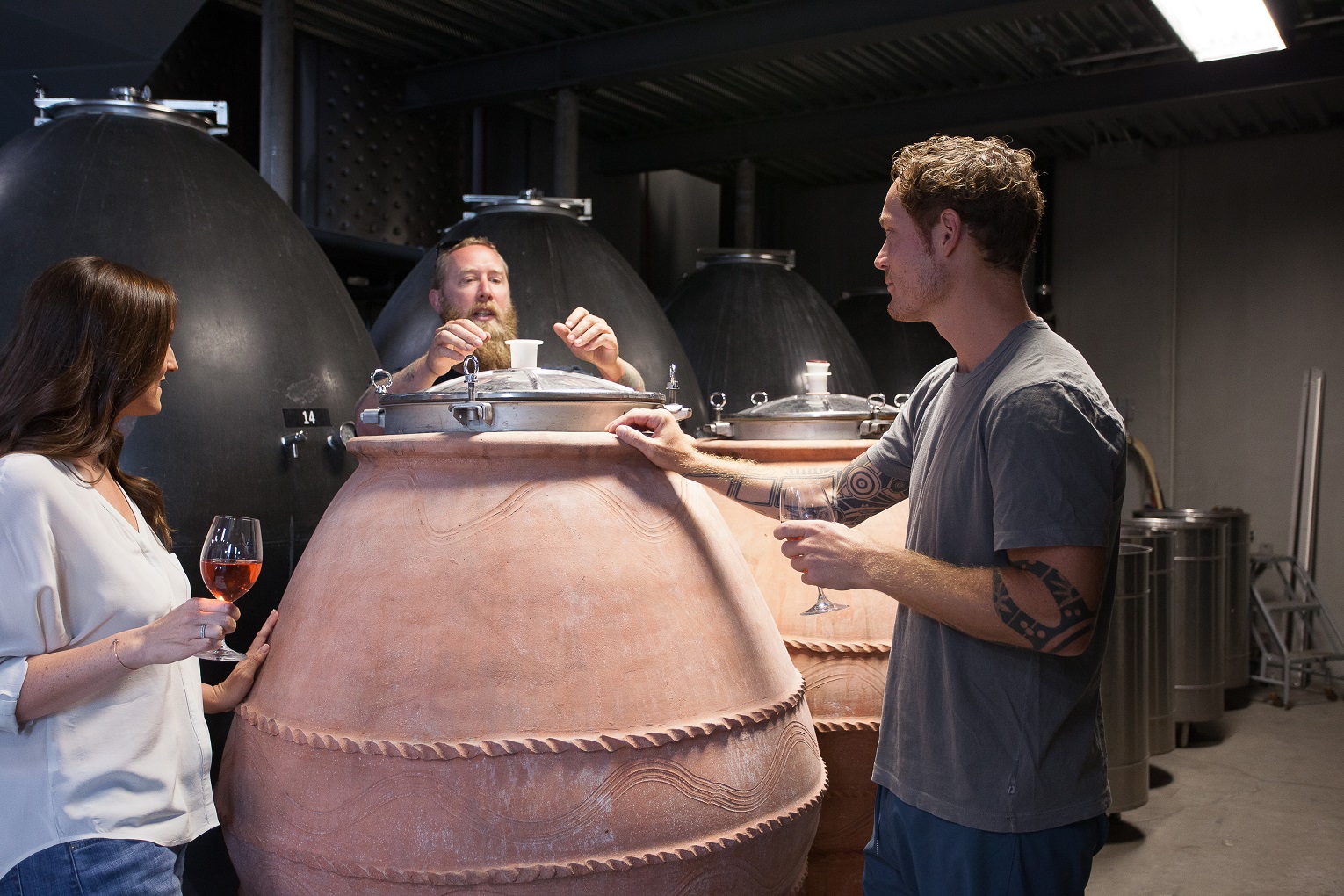 Natural Methods in Creating Organic Wine
Organic farming was just the beginning. Now, we grow organic grapes for wine-lovers to enjoy.
AT OCP, all wines (even ones that are typically aged in oak barrels) are aged and fermented in concrete and amphorae tanks. This method contributes to the authentic taste of our wine; these tanks are neutral and therefore do not impact the taste of the grapes. If a red wine has an oaky taste, it will come from the grape itself (and not from an oak barrel).
Under the direction of our winemaker Matt Dumayne, other natural winemaking protocols include:
No use of commercial yeasts
Combining organic grapes with the yeast that naturally occurs on their skins—this is known as native (or wild) fermentation
No additional additives used (including nutrients, tartaric, tannins, enzymes, Malolactic bacteria)
Minimal use of sulfur or filtering
Amphorae are filled by hand, cap wetting by hand and no punch down.
Biodynamic, organic and mindful winemaking consistently proves to create vibrant and lively-tasting wine.
Okanagan Crush Pad—Your Premier Vine to Glass Experience
Want a taste of Okanagan in a glass? Our organic wine is the closest thing you'll get to that taste and it may be shocking at just how lively it is. As an organic winery, we pride ourselves on our hard work and minimal intervention wines. You'll feel equally as good we do about our wines (especially considering that drinking organic wines lessen your chance of a hangover). Intrigued? Read our blog on the top 5 organic wines you need for your organic wine collection.