Introducing the latest brand from Okanagan Crush Pad named for the two Great Pyrenees that guard the flock of sheep at The Ranch.
Why Bizou + Yukon? 
The Ranch is a serious project, and ultimately when the vines are mature the wines grown there will be serious stuff. "Yet the #1 question I get asked," says Okanagan Crush Pad owner Christine Coletta, "is how are Bizou + Yukon?" 
They are rock stars (move over Justin and Hailey).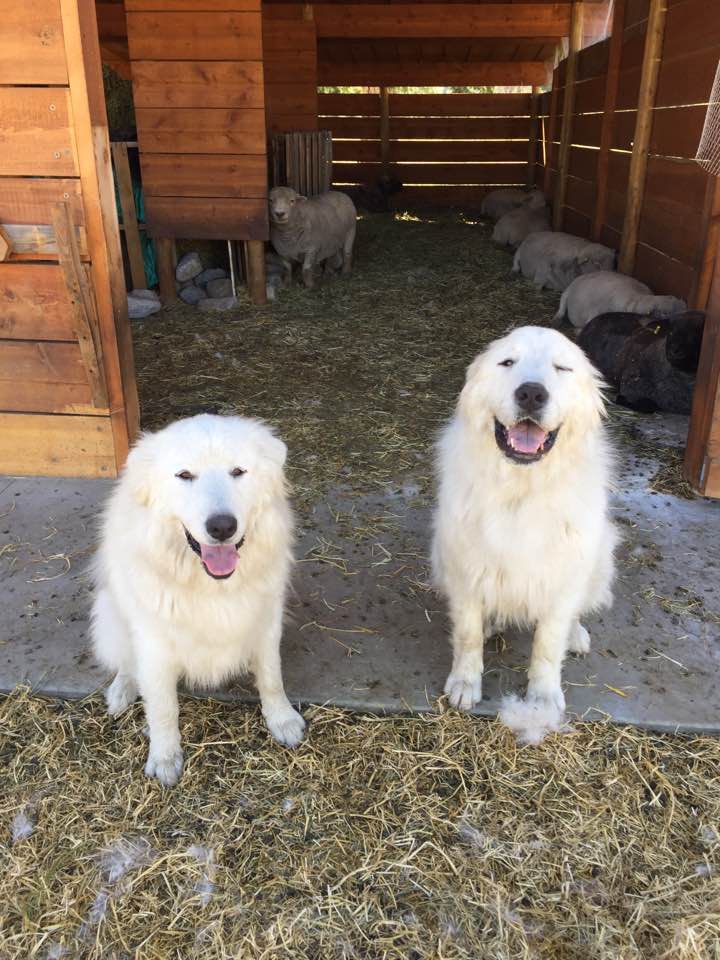 Winters can be long and quiet in Summerlandia, giving plenty of time to let one's imagination run wild.
"I love to take Bizou + Yukon for walkies from the winter barn into a large fenced field," says Christine. "I often wonder what they do when we are not around? Who are they really, underneath all that fur? From these thoughts came the idea for the story and labels behind Bizou + Yukon."
With ambitious world domination plans, the world's most savvy ranch hands, Bizou + Yukon, have turned their skills to wine.
The 12 colourful custom-illustrated labels feature a magical world where the dogs have clearly taken over.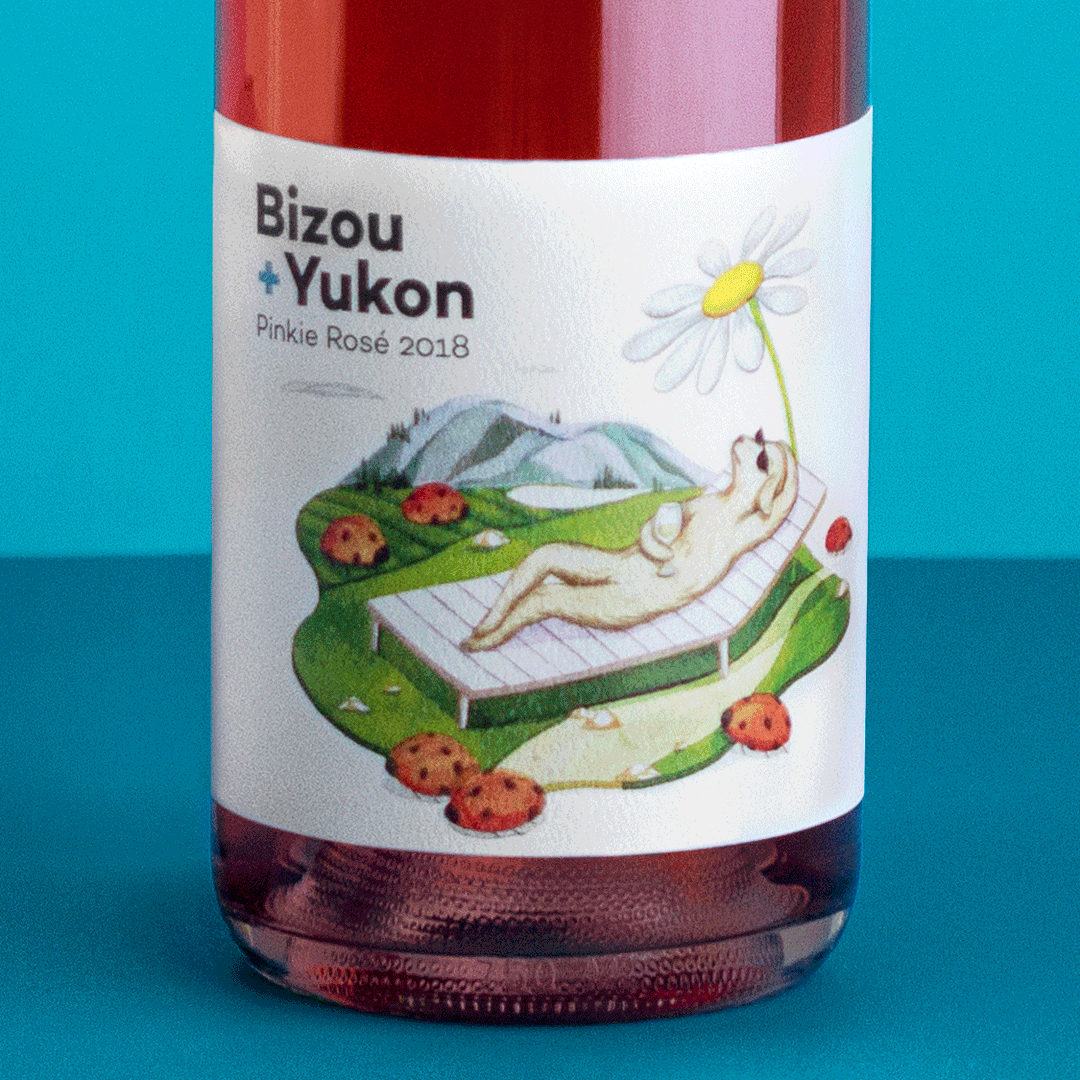 Visitors drop in to assist from "afar", giant insects take over farming roles, and animals seem to have a master plan for running the show. Everything takes on a very different shape as we let our imaginations loose. 
Order the Bizou + Yukon wines here.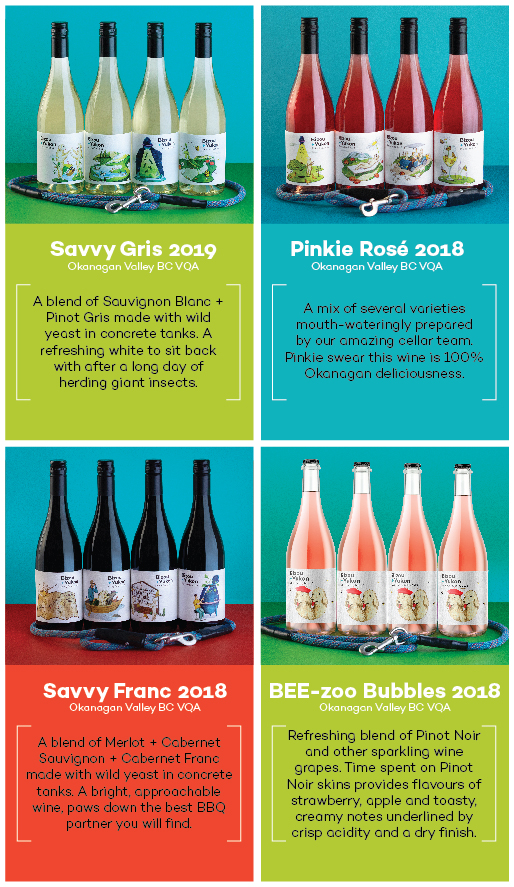 Available at the winery, online or find a location near you.
Each of our 12 labels on our still wines relates back to an aspect of our farming and contains a "pawnote" that explains more.
Savvy Gris $19.90 is a blend of Sauvignon Blanc + Pinot Gris made with wild yeast in concrete tanks. A refreshing white to sit back with after a long day of herding giant insects.
Pinkie Rosé $19.90 is a mix of several white and red wine varieties, mouth-wateringly prepared by our amazing cellar team. Pinkie swear this wine is 100% Okanagan deliciousness.
Savvy Franc $20.90 is a blend of Merlot + Cabernet Sauvignon + Cabernet Franc made with wild yeast in concrete tanks. A bright, approachable wine, paws down the best BBQ partner you will find.
BEE-Zoo Bubbles $24.90 is a refreshing light pink blend of Pinot Noir and other premium sparkling wine grapes. Time spent on Pinot Noir skins provides a delicate pale pink hue to set off flavours of strawberry, apple and toasty, creamy notes. Crisp acidity and a dry finish make this match for all appetizers.
Follow Bizou + Yukon on Instagram 
The wines might be serious but this brand is fun – follow the antics on Instagram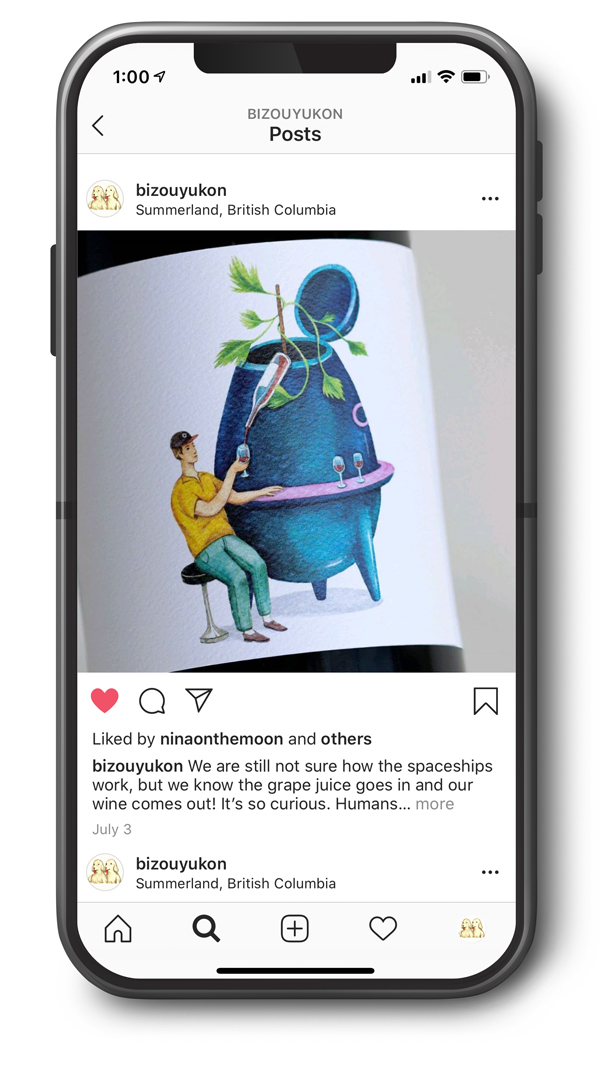 Let's Wander
Read all about it! While you are waiting for your wine to arrive at your front door, click here and go to The Adventures of Bizou + Yukon.