When it comes to pairing wine with food, there are those who carelessly match any dish with any libation and those who painstakingly try to balance the flavours of the food with the perfect wine.
Whether you enjoy the challenges of pairing wine with food or couldn't care less (and are content pairing a smooth red wine with a bag of cheezies), there are some pairings worth noting. Having knowledge of compatible wine and food pairings can truly enhance your dining experience.

How Pairing Wine with Food Works
It doesn't get much better than sea bass with Sauvignon Blanc, duck breast with Pinot Noir, or a juicy steak with a classic Cabernet Sauvignon, so here are some pairing tips that promise to make your next dish (and heart) sing.
Fat Element
A lot of our favourite foods, both meat and dairy products, have high levels of fat. Wine doesn't contain fat, so when matching a wine with fatty foods, remember that it has to balance the fat with the acid, cut it with tannin, or match its richness with alcohol.
This is why a prime cut of steak tastes so good with a Cabernet-based wine; the beef's protein and fat soften up the wine's mouth-drying tannins. This sets up the tongue for the wine's fruit and berries and forest flavours to complement the smoky, meaty flavours of the steak.
Acid Element
Acid is another key element in both food and wine. In wine, it adds nerve, freshness, and lift. It can do the same with food, as when lemon is squeezed on a fresh piece of fish. When looking for a wine to go with an acidic dish, you should make sure that the perceived acidity of the wine is at least equal to that of the food, or the wine will taste bland and washed out.
Salads are often a challenge for wine matching, but you can make it work if you moderate the acid in the dressing by cutting back on the lemon juice or vinegar. Try using some tangy, bitter greens and offset them with herbal flavours from Sauvignon Blanc or Vin Gris.
Salt Element
Salt can be a challenge to pair but we've got some great suggestions for you! Keep in mind that Salt can make an oaky Chardonnay taste funny, strip the fruit right out of a red wine, or turn high alcohol wines bitter. But with a bit of imagination, you can conjure up some remarkable combinations of salty foods and sweet wines.
Sparkling wines are a homerun with salty, fried foods. The carbonation and yeasty acids emulate beer and clean the salt from your palate while adding more interesting textures and flavour nuances. Salt is also a principal flavour in briny seafood such as oysters. Acidic wines clean out the salt and balance the rich ocean flavours of the oyster.
Pairing Wine with Food: The Sweetness Element
Sweet desserts and other sugary foods seem easy—just pull out a sweet wine—but beware. Here's where a rule really needs to be observed.
There are degrees of sweetness. Some recipes will have just a hint of sugar, such as a fruit sauce served over a pork loin. This light, fruity sweetness can be matched very well with rich white wines such as Chardonnay. Higher alcohol tends to give an impression of sweetness and balances the sugar in the sauce.
With desserts you must be certain that the wine tastes sweeter than the dessert; otherwise, the dessert will strip the wine of its sweetness and render it bitter or tart. Though red wine and chocolate is a combination often promoted by the wine industry, you have to be very careful with this combination.
Pair a bar of bitter and dark chocolate with a full-bodied Pinot Noir or Merlot, and it can be quite wonderful. But a sweet chocolate dessert with a dry red can make all the difference and does not have the same delicious taste.
Bitterness Element
What about bitter flavours? In some countries, bitter flavours are prized (e.g. China), but here in Canada, they tend to be avoided; anything more than just a hint of bitterness is likely to be perceived as unpleasant.
In wine, bitterness usually results from unripe grapes, mismanaged barrels, or a failure to get the stems and pips (seeds) out of the fermenting tank. When bitterness in wine meets bitterness in food, one does not cancel out the other; they merely combine.
Texture Element
As for matching textures, think light and heavy. Light foods are best with light wines; heavy foods with heavy wines. That's the safest way to go about it. A more adventurous path is to experiment with contrast: matching light foods to heavy wines and vice versa. This will require more testing, to keep the tension dynamic and avoid having the lighter flavours over-shadowed by the heavy ones.
Lastly, the most important "rule" of all is to trust your own palate and enjoy the process of pairing wine with food!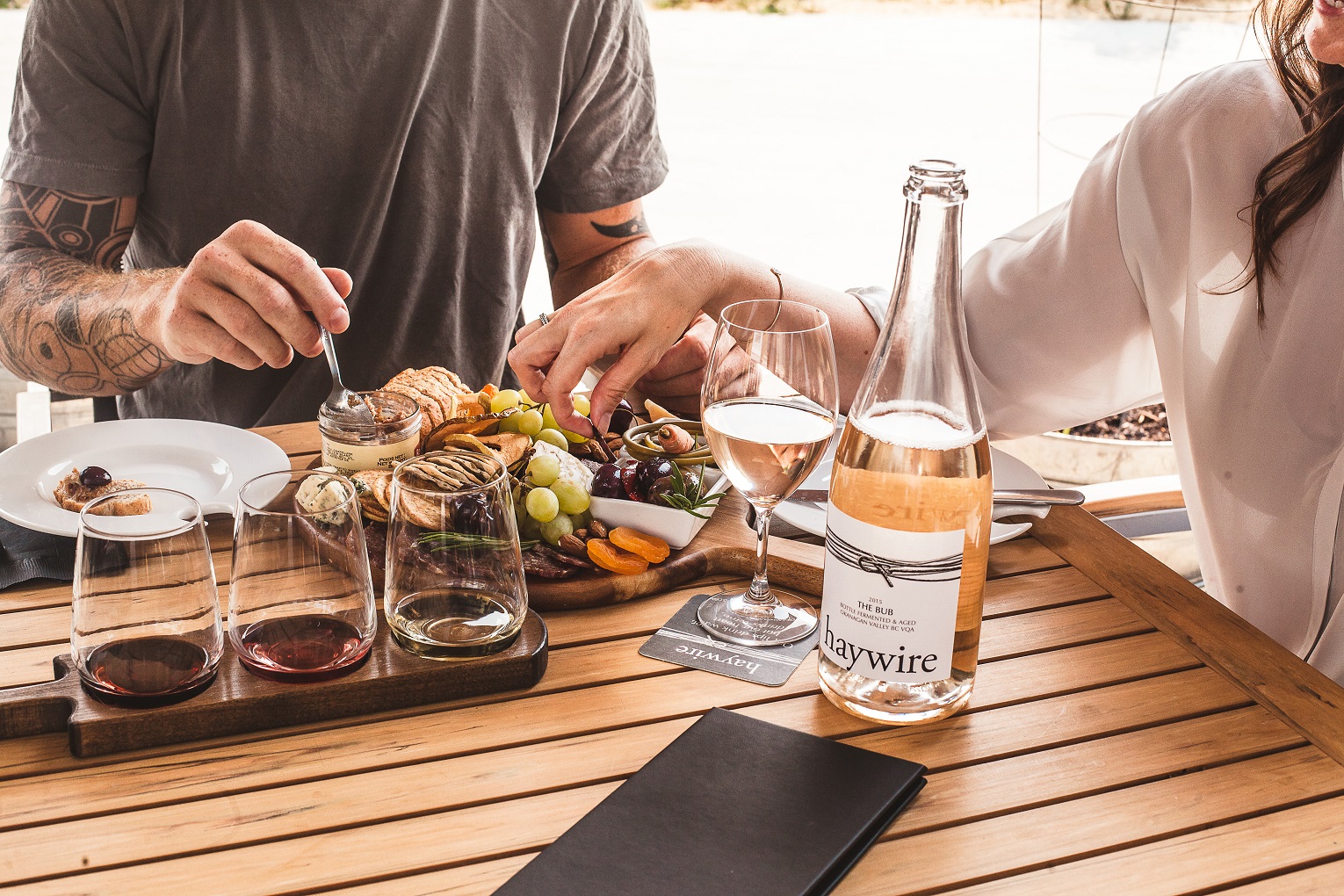 Delectable Okanagan Crush Pad Food and Wine Pairings
We have put together a comprehensive list of food and wine pairings, all of which include Okanagan Crush Pad's organic wine selections. Our biodynamic and organic wines pair well with most anything, but if you're curious about which foods will enhance the freshness and creamy notes of our craft wines, you will want to keep the list below saved somewhere special! We have even highlighted some amazing recipes that were specifically created by Nathan Fong to pair expertly with a selection of our wines. Stay tuned for our future blog posts where we will be diving deeper into these pairings and how to create and enjoy them at home!
Nathan Fong Wine Pairings
Free Form White 2017 with Middle Eastern Mezzo platter with Hummus, Babaganoush and an assortment of olives and flatbreads
Narrative Pinot Blanc 2017 with Rigatoni with Lemon, Roasted Brocollini and Chickpeas
Haywire Switchback Pinot Gris 2017 with Lemon Cream Spaghettini with Prawns and Clams
Haywire Seacrest Mountain Gamay 2017 with Frisée Salad with Lardons, Dried Cherries and Spiced Roasted Hazelnuts
Haywire Waters & Banks Pinot Noir 2015 with Grilled Miso Salmon and Wild Asian Mushrooms
Free Form Cabernet Franc 2017 with Grilled Blue Cheese Burger with Sautéed Mushrooms
White Wine Pairings
Free Form Ancient Method 2017 with Squash Soup and Basil
Haywire Sauvignon Blanc 2017 with Mussels Provencal
Narrative White 2017 with Spaghetti covered in a Rosé Cream Sauce
Haywire Baby Bub 2018 with Turkey Almond Sandwiches on Sourdough Bread (for a picnic)
Haywire Pinot Gris White Label 2017 with Crispy Artichokes and Spaetzle
Rosé Wine Pairings
Haywire Gamay Rosé 2018 with Tomato Salad
Narrative Rosé 2018 with Greek Orzo, Feta, and Olives
Haywire Pink Bub 2018 with Salmon and Dill
Red Wine Pairings
Free Form Red 2016 with Grilled Salmon, Olive Butter and Orzo
Narrative Red 2017 with Lamb and Apricots
Narrative Fortified with Asparagus Roasted in Balsamic
Narrative Syrah 2016 with Penne smother in a Bacon, Swiss Chard, Jack Cheese and Pecan Sauce